General Charles Angélique François Huchet de la Bédoyère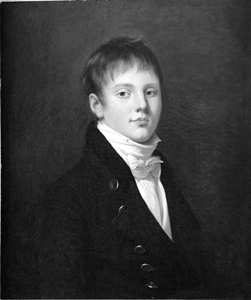 Aide-de-camp to Marshal Lannes, Prince Eugene, and Napoleon who was executed by the Bourbons after the Second Restoration
---
Born: April 17, 1786

Place of Birth: Paris, Paris, France

Died: August 19, 1815

Cause of Death: Executed

Place of Death: Paris, France


Pronunciation:
Younger than many of the other notable personalities of the time, Charles de la Bédoyère's first taste of army life came in 1806 when he joined the gendarmes as a second lieutenant. The following year he campaigned with the Grande Armée in Prussia and Poland and then in September he was promoted to lieutenant in the 11th Chasseurs à Cheval.
In January of 1808 Lieutenant de la Bédoyère advanced his career by becoming an aide-de-camp to Marshal Lannes. Later that year he traveled to Spain with Lannes where he was wounded by a shot to the head at Tudela. Two months later a promotion to capitaine followed.
Continuing to follow Marshal Lannes, Captain de la Bédoyère returned to France and then participated in the Danube campaign in the spring of 1809. At the Battle of Aspern-Essling , he was wounded in the foot by grapeshot. After Marshal Lannes' unfortunate death due to that battle, de la Bédoyère became an aide-de-camp to Prince Eugene de Beauharnais, Napoleon's stepson. He would serve as Eugene's aide for the next few years. In the meantime de la Bédoyère received the rewards of becoming a Knight of the Legion of Honor, a Knight of the Order of the Iron Crown, and a Knight of the Empire. In December of 1811, he was promoted to chef d'escadrons and then in 1812 he remained as Eugene's aide throughout the campaign in Russia.
After returning from Russia, in May of 1813 de la Bédoyère was promoted to colonel of the 112th Ligne. He led this unit throughout the campaign in Germany that year, becoming an Officer of the Legion of Honor in June and then being wounded by a shot to the left thigh on the heights of Goldberg in August. Despite the war going on, that November he found the time to marry Georgine Victoire de Chassellux. In February of 1814, Colonel de la Bédoyère received command of the 2nd Brigade of the 1st Division of the reserve guarding Paris. After Napoleon's abdication that April, he remained employed by the Bourbons as colonel of an infantry regiment.
When in 1815 Napoleon returned from exile on Elba, de la Bédoyère brought his regiment over to Napoleon's side. Napoleon rewarded him by promoting him to maréchal de camp and making him an aide-de-camp, Peer of France, and Count of the Empire. General de la Bédoyère joined the Army of the North and participated in the campaign in Belgium, serving as Napoleon's aide-de-camp. His role on June 16th during the battles of Ligny and Quatre Bras is controversial, as some historians have alleged that he understood the importance of the events at Ligny and proceeded to forge an order from Napoleon for Drouet d'Erlon to march towards Ligny at once, preventing Marshal Ney from using Drouet d'Erlon's troops at Quatre Bras.1
After the loss at Waterloo, de la Bédoyère was proscribed by the returning Bourbons despite this violating the terms of amnesty of the treaty negotiated by Marshal Davout. Planning to escape to America, he snuck into Paris to visit his wife and newborn son first. A servant betrayed his presence to the authorities and he was arrested in Paris and taken to prison on August 2nd, 1815.2 Accused of treason, de la Bédoyère was tried by a council of war and condemned to death. He appealed but his appeal was rejected and he was executed by firing squad on August 19th.
Notes
Bibliography
Related Pages:
Updated January 2017
© Nathan D. Jensen