General Antoine Bertoletti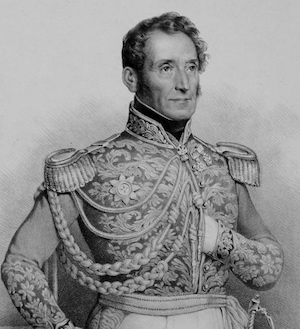 Italian general who successfully defended Tarragona in 1813
---
Born: August 28, 1775

Place of Birth: Milan, Italy

Died: March 6, 1846

Place of Death: Vienna, Austria

Arc de Triomphe: BERTOLETTI on the west pillar
Pronunciation:
After briefly serving against the French in Italy in 1796, Antoine Bertoletti then joined the French by joining the 2nd Cisalpine Legion, serving under Teulié. In 1798 and 1799 he distinguished himself in battle against the Neapolitans and in November of 1799 he was promoted to capitaine. Bertoletti next served under General Lechi and he fought at the action of Trente in January of 1801. In the years of peace that followed he was promoted to chef de brigade and he served at Modena, Pavia, and then Calais.
In May of 1806 Bertoletti was named colonel major of the royal guard of Eugene de Beauharnais. For the campaign of 1809, he served in Italy and Austria under Severoli and afterwards he was promoted to général de brigade. Next Bertoletti was named a Baron of the Empire in 1810 and then in 1811 he was assigned to the Army of Aragon commanded by General Suchet. After Tarragona was successfully captured at the end of June of 1811, Bertoletti was named commander of Tarragona. In December of 1812 he led 600 men against 1500 Spanish at Reus, 13 kilometers to the west of Tarragona. He drove the Spanish out of Reus and defeated them in battle the following day. However, Bertoletti is best known for his defense of Tarragona in June of 1813. A combined British and Spanish force under General Murray laid siege to Tarragona with 15,000 men while Bertoletti only had 1600 men to use in the defense. Bertoletti successfully held Tarragona until a relief force could arrive and the British-Spanish force was compelled to withdraw.
In 1814 Bertoletti again served under Severoli in Italy and on March 2nd he fought at the action of Parma. At the end of the war, he entered Austrian service as a major general and was named governor of the fortress of Peschiera.

Bibliography
Updated September 2021
© Nathan D. Jensen