General Gaspard Jean Baptiste Brunet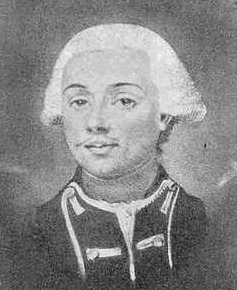 Army commander during the Revolution who was executed during the Reign of Terror
---
Born: June 14, 1734

Place of Birth: Valensolle, Alpes-de-Haute-Provence, France

Died: November 15, 1793

Cause of Death: Executed

Place of Death: Paris, France

Arc de Triomphe: BRUNET on the south pillar
Pronunciation:
A career soldier, Gaspard-Jean-Baptiste Brunet first entered military service when he joined the artillery in 1755. He went on to serve in the Seven Years War in Germany first as a lieutenant and then as a capitaine of infantry after he was promoted in 1759. A slow career advancement followed for Brunet, but in 1773 he was named a Knight of Saint Louis, and then in 1778 he was promoted to major before receiving promotion to lieutenant colonel in 1779.
Brunet was still a lieutenant colonel when the Revolution arrived and in 1790 he was named commander of the National Guard of the département of Basses-Alpes. The following year he was promoted to maréchal de camp, but he chose to retire. However, in September of 1792 General Montesquiou specifically requested that Brunet return to service and Brunet answered the call, being placed under General Anselme's orders. That December Brunet was provisionally named commander of the Army of the Var, replacing Anselme.
In March of 1793 Brunet was promoted to général de division and sent to the Army of Italy. A month later he replaced General Biron as commander of that army, and he held that command until that August when he was arrested by the representatives of the people. Brunet was then transported to Paris and imprisoned at l'Abbaye before being moved to the Conciergerie. Brought to trial, he was charged with refusing orders given by the representatives of the people to march his army on Toulon at the moment it was discovered that the leaders of Toulon were negotiating treason with the British. Furthermore, Brunet was charged with having corresponded with the rebel committees of Lyon and Marseille. Condemned to die on November 14th, he was executed by guillotine the following day.

Bibliography
Related Pages:
Updated August 2017
© Nathan D. Jensen