General Dominique Martin Dupuy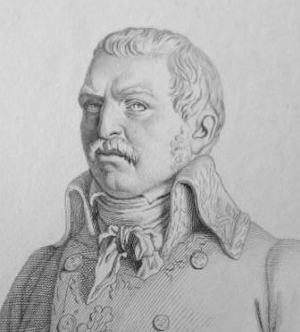 Général de brigade who was killed during a revolt in Cairo
---
Born: February 8, 1767

Place of Birth: Toulouse, Haute-Garonne, France

Died: October 21, 1798

Cause of Death: Mortally wounded

Place of Death: Cairo, Egypt


Pronunciation:
Joining the regiment of Artois in November of 1783, Dominique Martin Dupuy left the service the next year and became a merchant at Toulouse. After the onset of the Revolution, in December of 1791 he was elected lieutenant colonel of the 1st Battalion of Volunteers of Haute-Garonne. Initially they were sent to the Army of the Var which became the Army of Italy. Dupuy took command of the 2nd Battalion of Grenadiers and became an aide-de-camp to General Brunet. In August of 1793 he was promoted to général de brigade but the promotion was reversed as he was disgraced alongside General Brunet and arrested at Nice on the order of the representatives. Initially Dupuy was incarcerated at Grasse before he was transferred to the Conciergerie in Paris. Despite statements from General La Poype and General Leclerc against him, Dupuy was acquitted by a revolutionary tribunal but not allowed to rejoin the army. However, after the Thermidorian Reaction ended the Reign of Terror, Dupuy was allowed to rejoin the army.
Dupuy joined the Army of Italy as a chef de bataillon in December of 1794. Then in February of 1795 he was promoted to chef de brigade with the rank officially being dated back to February of 1794. In 1795 Dupuy served in Laharpe's division and that June he was encircled under the walls of Savona. He was rescued by Laharpe four days later at the combat of Vado and then he retreated along with the army. In 1796 Dupuy was wounded at Dego in April and then at Caldiero in November. He was then named governor of the city and chateau of Milan and in December he was promoted to général de brigade. However, he refused the promotion.
In 1798 Dupuy took part in the expedition to Egypt. After arriving he distinguished himself at the Battle of the Pyramids and the next day he again earned a promotion to général de brigade. This time he accepted the promotion and he was appointed governor of Cairo. That October a rebellion broke out in Cairo and Dupuy rushed to put it down, but he was attacked and struck by a lance below the armpit. His men transported him to Colonel Junot's house but he died two hours later. Napoleon named one of the forts of Cairo in Dupuy's honor.

Bibliography
Related Pages:
Updated August 2017
© Nathan D. Jensen