General Gaspard-Amédée Gardanne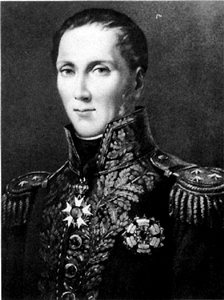 Général de division who distinguished himself at Marengo
---
Born: April 30, 1758

Place of Birth: Solliès-Pont, Var, France

Died: August 14, 1807

Cause of Death: Illness

Place of Death: Breslau, Poland

Arc de Triomphe: GARDANNE on the south pillar
Pronunciation:
Gaspard-Amédée Gardanne began his military career as a lieutenant of cannoniers in 1779, serving on the coast of Provence. In 1784 he left the military, only to return in 1791 when he joined the 1st Battalion of Volunteers of Var as a lieutenant colonel. First sent to the Army of the Alps, Gardanne was then sent to the Army of Italy in 1793 and promoted to chef de brigade. After serving at the Siege of Toulon , he returned to the Army of Italy where he commanded the advance guard of Macquart's division. In 1795 Gardanne served during the combat at the pass of Tende and was promoted to général de brigade.
1796 saw General Gardanne taking command of a brigade in the Army of Italy. Initially he served in the advance guard under Kilmaine and on May 30th he crossed the Mincio at the head of a group of grenadiers at Borghetto. That August he joined Masséna's division, and then in September he joined Vaubois' division. Two months later Gardanne fought at Arcola where he was wounded by a shot. The next year Gardanne was named commander at Tortone and Alessandria.
In 1798 General Gardanne was designated for the Army of the Orient but he did not leave for Egypt with the army. Instead he remained in France and then in 1799 he became governor of Alessandria. That July the city was besieged and Gardanne was forced to surrender, being taken as a prisoner of war. Before long he was exchanged for Austrian General Mack and released. Once back in Paris, Gardanne assisted General Bonaparte with the coup d'état and afterwards served in the 17th military division.
In early 1800 Gardanne was promoted to général de division and then sent to the 14th military division at Caen. That April he joined the Army of the Reserve and then in June he took command of a new division. Leading his division, he fought at Montebello and Marengo, where he distinguished himself. Gardanne later received a sabre of honor for his conduct at Marengo and he went on to serve with the Army of Italy until the summer of 1801 when he returned to France.
Gardanne did not stay in France long, returning to Italy in 1802 to command French troops in the Ligurian Republic. In 1804 he became a Commander of the Legion of Honor, and in 1805 he took command of the 1st Division of the Army of Italy under Marshal Masséna. During the campaign in Italy that year, Gardanne served at Verona and San-Michele and then commanded the center at Caldiero .
In 1806 Gardanne took command of the reserve of grenadiers in the Army of Naples and then blockaded Gaète. That year he also served in Calabria before being recalled to France to take command of a division in Marshal Ney's VI Corps. On February 4th of 1807, Gardanne was wounded in a fight against the Russians, and barely a month later he was replaced in his command for disagreeing with Ney. Instead he was sent to the Siege of Danzig to command the 4th Division and in this capacity he helped repulse the Russian relief army.
In early June Gardanne traveled to Silesia where he took command of the Saxon troops there. While there he fell ill and died in August of 1807.

Bibliography
Updated January 2014
© Nathan D. Jensen