General Jacques Laurent Gilly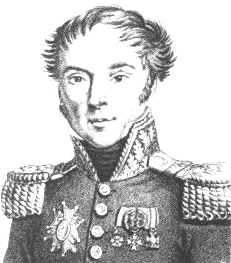 General who served in a number of campaigns and was proscribed in 1815
---
Born: August 12, 1769

Place of Birth: Fournès, Gard, France

Died: August 5, 1829

Place of Death: Aramon, France

Arc de Triomphe: GILLY on the west pillar
Pronunciation:
Like many others during the Revolution, Jacques-Laurent Gilly first entered military service as a volunteer in the 2nd Battalion of Grenadiers of Gard in August of 1792. Later that month he was elected a lieutenant colonel of the battalion and before long his unit was sent to the Army of the Alps. After a brief stint with the Army of Italy, Gilly and his unit were sent to the Army of the Eastern Pyrenees in 1793. Once there, they fought at the pass of Perche, Olette, Villefranches, Prades, and Truillas. In recognition of his services, Gilly was promoted to chef de brigade at the end of September. Gilly continued to serve with the Army of the Eastern Pyrenees, joining Charlet's division in October of 1794 and then defending the chateau of Puycerda in July of 1795 where he was wounded and taken prisoner. However, peace was soon signed with Spain and he was returned to France just a few months later.
For Gilly's next assignment, he was sent to Garnier's division in the Army of Italy in April of 1796 and therefore took part in the campaign there. In 1797 he joined Guieu's division, and then in 1798 he served in the Army of Rome before being sent to the Army of the Danube in 1799. Gilly received a promotion to général de brigade in July of 1799 and then that December he was named commander of Lyon. The next year he was assigned to the Army of the Reserve in Lorge's division, and he crossed the Saint Gothard pass with General Moncey. Gilly took part in laying siege to Milan and afterwards he served with the Army of Grisons.
With the temporary peace that followed, Gilly served primarily in the 9th and 10th military divisions. When war broke out in 1805, he took command of the 1st Brigade of Séras' 5th Division in the Army of Italy. After serving in Italy that year, he was sent to Dalmatia in 1806 where he was named commander at Makarska. In 1807 Gilly returned to the Grande Armée to assume command of the 1st Brigade of Friant's division in III Corps. The next year he was assigned to the Army of Germany and rewarded as a Baron of the Empire.
When the Austrians attacked France's ally Bavaria in 1809, General Gilly again assumed command of a brigade of Friant's division. That April he fought at Thann and Ratisbon and then in July he fought at Wagram where he was wounded by a shot. A month later Gilly received a promotion to général de division. Next Gilly was sent to Antwerp to command a division and then in 1810 he was named commander of the isles of Zealand off Holland. Gilly remained in Holland for a number of years, and in 1811 he was appointed a Grand Officer of the Legion of Honor. As the wars reached his area in 1814, he seized Bruges and served under General Maison in defending Holland and Belgium.
After Napoleon's abdication, Gilly was made a Knight of Saint Louis and placed in charge of the département of Gard by the returning Bourbons. However, when Napoleon returned from exile in 1815 for the Hundred Days, Gilly rallied to him and marched his troops against the Duke of Angoulême. Napoleon recognized Gilly's contributions by naming him a Count of the Empire. Gilly remained in command of troops in the south of France until after Napoleon's second abdication when he was proscribed by the restored Bourbons. In response, General Gilly fled France and traveled to the United States. In 1816 he was tried in absentia and condemned to die, but in 1820 he was amnestied and he returned to France.

Bibliography
Updated September 2020
© Nathan D. Jensen