General Gaspard Gourgaud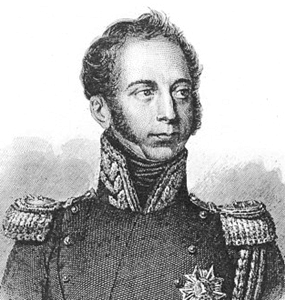 Ordnance officer to Napoleon who accompanied him into exile to Saint Helena
---
Born: November 14, 1783

Place of Birth: Versailles, Yvelines, France

Died: July 25, 1852

Place of Death: Paris, France


Pronunciation:
Gaspard Gourgaud is best known for being one of Napoleon's supporters who accompanied him in exile to Saint Helena and later wrote about his time there. The son of a musician, Gourgaud enrolled in the École Polytechnique in September of 1799. Two years later he became a sous-lieutenant and he studied at the artillery school of Châlons. Promoted to lieutenant in 1802, in 1804 Gourgaud became an aide-de-camp to General Foucher de Careil and in this position he took part in the campaign of 1805. That December Gourgaud fought at the Battle of Austerlitz where he was wounded by a shell. Gourgaud continued his artillery career, participating in the campaigns of 1806 and 1807. In 1808 he was promoted to capitaine and he then joined the 6th Horse Artillery, serving with that regiment during the Danube campaign of 1809. In 1810 Gourgaud fulfilled a number of missions, being sent to Versailles, Spain, and then Danzig.
Gourgaud's career took a new turn in 1811 when he became the ordnance officer of the emperor. Frequently by Napoleon's side, in 1812 he participated in the Russian campaign and he was wounded by a ball to the left shoulder at Smolensk . In October he was created a Baron of the Empire and then in November he served at the Battle of the Berezina. At that battle, he distinguished himself by twice swimming across the frigid river to reconnoiter the opposite bank before the work to build the bridges began. In March of 1813 Gourgaud was promoted to chef d'escadrons and he continued to serve as Napoleon's ordnance officer throughout the campaign in Saxony. The next year he served during the defense of France. At the Battle of Brienne in January, a cossack was charging Napoleon with a lance when Gourgaud intervened to kill the cossack with a pistol shot, saving Napoleon's life. However, when asked a few years later in 1817 Napoleon did not recall Gourgaud saving his life, so it is questionable as to how close the cossack came to Napoleon.1 Regardless, Gourgaud went on to distinguish himself at Montmirail in February where he was wounded, and then at Laon and Reims in March. In recognition of his service, Napoleon promoted him to colonel and made him a Commander of the Legion of Honor.
After Napoleon's first abdication, Gourgaud was placed with the 1st military division. When Napoleon returned from Elba, Gourgaud rejoined him as his primary ordnance officer. He took part in the campaign in Belgium that June and he was promoted to maréchal de camp a few days after the Battle of Waterloo. Gourgaud next chose to follow Napoleon in exile and in response the restored Bourbons struck him from the army's rolls for taking leave without authorization. Napoleon gave Gourgaud a letter to take to the Prince Regent of England, but Gourgaud was not allowed to travel to England, so instead he embarked on the Northumberland with Napoleon on the trip to Saint Helena. Gourgaud's attitude and outbursts with the other individuals surrounding Napoleon in exile eventually led to him deciding to leave Saint Helena in 1818.
Gourgaud was finally authorized to return to France in 1821 but he did not resume a military career until after the Revolution of 1830. He later became an aide-de-camp to King Louis Philippe and in 1840 he was one of the French representatives who traveled to Saint Helena to escort Napoleon's remains back to Paris.
Notes
Bibliography
Updated March 2022
© Nathan D. Jensen