Admiral Jacques-Félix-Emmanuel Hamelin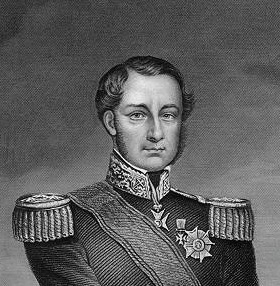 Talented naval captain who explored the coast of Australia and wreaked havoc on British shipping
---
Born: October 13, 1768

Place of Birth: Honfleur, Calvados, France

Died: April 23, 1839

Place of Death: Paris, France

Arc de Triomphe: HAMELIN on the north pillar
Pronunciation:
Initially learning his seafaring skills on merchant ships as a pilot, Jacques-Félix-Emmanuel Hamelin sailed between France and the coast of Angola, the Gold Coast, and Saint-Domingue in his early career. In 1792 Hamelin joined the French navy as helmsman on board the ship Entreprenant. Sent to the Mediterranean, he served under Admiral Truguet and took part in the actions of Nice, Oneglia, and Cagliari and he was promoted to ensign of vessel. In 1794 Hamelin set sail on the frigate Proserpine as part of Admiral Villaret-Joyeuse's fleet, and that June he fought against the Dutch frigate Vigilante. Two months later in August he received a promotion to lieutenant of vessel and then in October he sail sail on the frigate Minerve. Again serving in the Mediterranean, Hamelin served under Admiral Martin. In March of 1795 he took part in the capture of the British ship HMS Berwick but he was wounded in the left leg during the fighting. That month he also served against British Admiral Hotham's fleet in the series of actions that led to the capture of the French ships Censeur and Ça Ira.
In September of 1795 Hamelin next joined Admiral Richery's expedition to Newfoundland on the captured Berwick. The next month he took part in the action that resulted in the recapture of Censeur. Hamelin received a promotion to captain of frigate in November of 1796 and then in December he took command of the ship Révolution, the formerly named Censeur. He took part in the expedition to Ireland of 1796 and afterwards commanded a variety of French ships. In October of 1800 Captain Hamelin was given command of the corvette Naturaliste and he took part in Baudin's expedition to map Australia and the South Seas. Baudin and Hamelin explored the southwestern coast of Australia and then Hamelin led the expedition back to France after Baudin's untimely death in 1803 due to illness.
Once back in France, Hamelin was promoted to captain of vessel in September of 1803. The next year Hamelin protected Le Havre from a bombardment in August of 1804. He was then ordered to conduct one of four divisions of the flotilla organized at Boulogne and intending to strike at England. After the plans to invade England were abandoned, in July of 1806 Hamelin was given command of the frigate Vénus and he set sail from Le Havre with three frigates and two corvettes for the Indian Ocean. Hamelin's small fleet supported Île de France for a number of years, striking at British merchant ships. In 1810 he successfully captured the British frigate HMS Ceylon but the encounter left his flagship Vénus needing repairs. The next day a British force chased the French to retake the Ceylon and once he realized he could not escape, Hamelin surrendered and was taken prisoner.
In February of 1811 Hamelin was returned to France and later that year he was named a Baron of the Empire and promoted to rear admiral. That September he took command of a squadron serving near Belgium and Holland under Admiral Missiessy and then in 1813 he took command of the 1st Squadron at Brest. After Napoleon's abdication in April of 1814, Hamelin was named a Knight of Saint Louis by the restored Bourbons.

Bibliography
Updated January 2017
© Nathan D. Jensen