General Charles Eugène de Lalaing d'Audenarde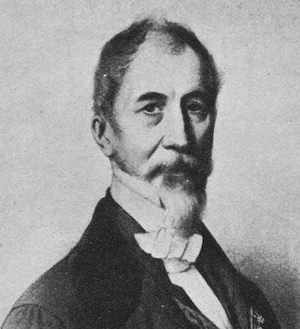 Cuirassier officer who served at Austerlitz, Jena, Friedland, Eckmühl, Aspern-Essling, and Wagram
---
Born: November 13, 1779

Place of Birth: Paris, Paris, France

Died: March 4, 1859

Place of Death: Paris, France

Arc de Triomphe: LALAING D'AUD

D

on the east pillar
Pronunciation:
Born into a noble family, Charles Eugène de Lalaing d'Audenarde began his military career in the Austrian army with the 6th Dragoons in 1799. Four years later in 1803 he resigned and then in 1804 he entered the French army as a capitaine in the 112th of the Line. The next year Lalaing d'Audenarde was promoted to chef d'escadrons and he joined the 3rd Cuirassiers. Serving with the Grande Armée on campaign, he fought at the battles of Austerlitz, Jena, and Friedland.
In January of 1809 Lalaing d'Audenarde was promoted to colonel and he remained with the 3rd Cuirassiers but he did not command the regiment. That year he served on the Danube campaign and he served at the battles of Eckmühl, Aspern-Essling , and Wagram . Afterwards Lalaing d'Audenarde was named a Baron of the Empire. In September of 1811 he took command of the 3rd Cuirassiers and then in 1812 he served with Saint-Germain's 1st Cuirassier Division in Russia. In December of 1812 Lalaing d'Audenarde was promoted to général de brigade. The next year he served in Saxony and that August he took command of the 1st Brigade of Doumerc's 3rd Heavy Cavalry Division. Near the end of the year Lalaing d'Audenarde was appointed a major of the lancers of the Imperial Guard.
In 1814 Lalaing d'Audenarde served in Belgium under General Maison and in March he served at both combats of Courtrai. The restored Bourbons placed Lalaing d'Audenarde in the guard of corps of the king and named him a Knight of Saint Louis. During the Hundred Days of 1815, Lalaing d'Audenarde followed the king to Ghent. Afterwards, he continued a successful military career.

Bibliography
Updated February 2022
© Nathan D. Jensen