General Pierre Robert Lanusse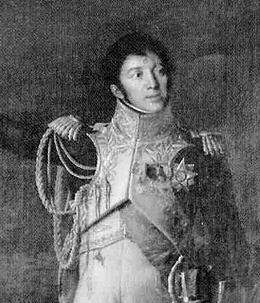 Aide-de-camp to Marshal Murat who also served in the Young Guard
---
Born: November 21, 1768

Place of Birth: Habas, Landes, France

Died: May 3, 1847

Place of Death: Versailles, France


Pierre, called Robert, Lanusse was a French general and brother to the more well known general François Lanusse. His military career began when he joined a company organized at Oloron as a lieutenant in 1793. Serving in the Army of the Western Pyrenees, he was taken prisoner during the attack on Brousset that summer. In October, he and seven comrades successfully escaped and took refuge in Landes, where they were employed in civil functions.
In March of 1796, Pierre-Robert Lanusse followed his brother to the Army of Italy to take part in that campaign. The next year he was given a commission as sous-lieutenant and served as aide-de-camp to his brother. In 1798, Lanusse was promoted to lieutenant and followed his brother to Egypt, continuing to serve as his aide-de-camp. At the combat of Damanhour in May of 1799, he was wounded by a shot to the right knee. The next year he was promoted to captain, and then in 1801 after his brother's death and the French surrender, Lanusse returned to France. Not long after his return he was appointed an aide-de-camp to Murat and promoted to chef d'escadrons.
In 1805, Lanusse took part in the campaign against Austria, and then on December 26th was promoted to colonel of the 17th Line, which was part of the 1st Division of III Corps. With this unit, the next year he fought at Auerstadt, Tsarnowo, and Golymin . Then in 1807 he fought at Eylau, and later that year was wounded at Heilsberg where his right shoulder was shattered.
1808 saw rewards for Lanusse, as he became a Knight of the Iron Crown and a général de brigade. He followed Murat to Napoles and became a général de division in service of Naples, but remained on French service too. In 1810 Lanusse was appointed commander of an infantry division in the Royal Neapolitan Guard, became a Baron of the Empire, and married the daughter of Marshal Pérignon.
At the end of 1811, General Lanusse returned to France as a général de brigade in the Imperial Guard. He took command of the 2nd Brigade of the Delaborde's division in the Young Guard, and led them throughout the Russian campaign. In 1813 he took command of the 1st Brigade of Dumoustier's division, served at Lutzen, and became a Commander of the Legion of Honor and général de division. Shortly after his promotion that August, he took command of the 2nd Division at Magdebourg under General Girard, where he remained until after Napoleon's abdication.
The Bourbons made General Lanusse a Knight of Saint Louis, but then later put him on non-activity. Upon Napoleon's return, he was placed in charge of the 3rd military division. After the Second Restoration of the Bourbon government, he was again placed on non-activity.

Bibliography
Updated prior to 2014
© Nathan D. Jensen