General Donatien-Marie-Joseph de Vimeur Rochambeau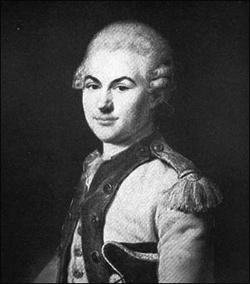 The son of Marshal Rochambeau who took command at Saint-Domingue after Leclerc and was later killed at Leipzig
---
Born: April 7, 1755

Place of Birth: Paris, Paris, France

Died: October 20, 1813

Cause of Death: Mortally wounded

Place of Death: Leipzig, Germany

Arc de Triomphe: ROCHAMBEAU on the east pillar
The son of Marshal Rochambeau who commanded the French army during the American Revolutionary War, Donatien-Marie-Joseph de Vimeur de Rochambeau followed in his father's footsteps and joined the army. In 1769 he was named a lieutenant in the artillery and in 1773 he received a promotion to capitaine. After some service with the dragoons and infantry, in 1779 Rochambeau was promoted to colonel and he married the sister of General d'Harville. The following year he left France with his father to support the American Revolution with French troops. During the course of that campaign, Rochambeau served at the Siege of Yorktown in 1781, commanding a battalion of grenadiers and leading them in taking the redoubt and camp of Pigeons Hill. After the successful conclusion of the siege, he and his father returned to France having helped the Americans achieve independence.
Once back in France, Rochambeau served with the rank of mestre de camp and was appointed a Knight of Saint Louis in June of 1783. After the arrival of the French Revolution in 1789, Rochambeau was promoted to maréchal de camp and assigned to the 1st Military Division in June of 1791. The following year he served at Maubeuge before being relieved in May. Rochambeau was next named commander of the Windward Isles and promoted to lieutenant general. After setting sail for the Windward Isles, he arrived at Martinique only to be told that his command was not recognized. Instead Rochambeau went to Saint-Domingue where he was appointed governor general in October of 1793. In February of 1794 he returned to Martinique where he repulsed the English, but ultimately in March of 1794 he and his force were forced to surrender to the English.
Rochambeau was first sent by the English to Philadelphia and he was finally exchanged as a prisoner of war and allowed to return to France in December of 1795. Back in France for less than a month, he was next ordered to command the troops sent to Saint-Domingue to occupy the part of the island given up by Spain. Rochambeau arrived at Cap Français in May of 1796, but only a few months later he was relieved and sent back to France. Unfortunately for him, his ship was intercepted by the English and he was again taken prisoner. More than a year later Rochambeau was finally exchanged again and he returned to France, only to be thrown into prison by the Directory for eight days. After he was released, he was not given any commands.
General Rochambeau finally received a new command after Napoleon took power with a coup d'état. In January of 1800 Rochambeau was reintegrated as a général de division in the Army of Italy, and that spring he served under Suchet and fought at the defense of the bridge on the Var.
In 1801 Rochambeau served under General Leclerc and that year he was put at the disposition of the Ministry of the Navy to prepare to take part in the expedition to Saint-Domingue. Rochambeau took command of a division and after landing he took Fort Dauphin in February of 1802. Disease soon took its toll on the French soldiers, and when General Leclerc died from yellow fever, Rochambeau assumed command of the French army on Saint-Domingue. He gained a reputation for brutality while in command and in November of 1803 he was finally forced to surrender to the English. This time Rochambeau was shipped back to England to the prison of Norman Cross where he would remain for eight years.
In December of 1811 Rochambeau was finally exchanged and allowed to return to France. Once back in France, he was put on non-activity until January of 1813 after the disastrous campaign against Russia. Rochambeau took command of a division that became the 19th Infantry Division and served as part of Lauriston's V Corps. That April he and his men served at Mockern, and then in May he fought at Eichberg where he was wounded before then serving at Bautzen. That June Rochambeau's contributions were recognized when he was named a Baron of the Empire. He continued to serve during the campaign, winning at Siebenecken and then fighting at Goldberg in August. In September he received another award, this time being named an Officer of the Legion of Honor. That October Rochambeau led his men into action at the Battle of Leipzig where he was mortally wounded near the village of Probstheyda. Taken to the hospital, he died two days later.

Bibliography
Updated August 2016
© Nathan D. Jensen