General Jean Paul Adam Schramm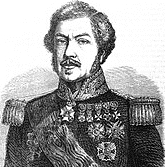 Son of General Schramm who served in the Imperial Guard and also became a general
---
Born: December 1, 1789

Place of Birth: Arras, Pas-de-Calais, France

Died: February 25, 1884

Place of Death: Paris, France

Arc de Triomphe: SCHRAMM, J. on the east pillar
The son of the military officer Jean Adam Schramm, Jean Paul Adam Schramm began his military career very early in life when he joined the 2nd Demi-Brigade of Light Infantry in 1799. His father was serving in the unit as a chef de bataillon at the time and he went along for the expedition to Egypt. Schramm was commissioned as a sous-lieutenant in July of 1800 by General Menou. In 1805 he was promoted to lieutenant and he joined Oudinot's division. Schramm served on the campaign against Austria in 1805 and he seized a cannon at Wertingen and another cannon at Hollabrunn. In March of 1806 he was made an aide-de-camp to his father and later that year he served on the campaign against Prussia. In 1807 Schramm served at the Siege of Danzig before being promoted to capitaine in the Fusiliers Chasseurs of the Imperial Guard. He served at the Battle of Heilsberg in June where he was wounded by a shot to the right side.
Schramm served in Spain in 1808 and that December he distinguished himself before Madrid. Recalled to France in 1809, he next served in Germany on the Danube campaign and he served at the Battle of Aspern-Essling and the Battle of Wagram . In 1810 Schramm began serving in Old Castile and in 1811 he was promoted to chef de bataillon in the 2nd Voltigeurs of the Guard. In 1812 he served on the campaign in Russia and in 1813 he served on the campaign in Saxony. That April Schramm was named commander of the 2nd Voltigeurs and in May he was wounded by two shots at Lützen, one to the left arm and the other to the left side of the chest. On May 14th he was grievously wounded in the chest. In August Schramm joined the 2nd Brigade of Dumoustier's division and he served at the Battle of Dresden. The next month he was promoted to général de brigade and employed in Mouton-Duvernet's division in XIV Corps. Defending Dresden, Schramm distinguished himself at the combat of October 17th and on the 29th he was wounded by a shot to the right foot during a sortie. When Dresden finally surrendered in November, Schramm was taken prisoner and sent to Gran in Hungary.
Returning to France after Napoleon's abdication and the Bourbon Restoration, Schramm was named a Knight of Saint Louis. He was later given command of the département of Maine-et- Loire. During the Hundred Days, Schramm was employed in the defense of Paris. Afterwards he was put on non-activity but later he continued a successful career.

Bibliography
Related Pages:
Updated January 2021
© Nathan D. Jensen