General Régis Barthélemy Mouton-Duvernet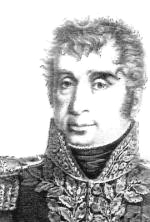 Infantry commander in the Imperial Guard who was executed in 1816 for his actions during the Hundred Days
---
Born: March 3, 1770

Place of Birth: Puy, Haute-Loire, France

Died: July 27, 1816

Cause of Death: Executed

Place of Death: Lyon, France

Arc de Triomphe: DUVERNET, M. on the west pillar
Pronunciation:
A career soldier, Régis-Barthélemy Mouton-Duvernet first enlisted in the regiment of Guadeloupe in 1787 at age seventeen. He spent the next few years serving in Guadeloupe until he obtained a leave in 1791 and returned to France. Once back in France, Mouton-Duvernet volunteered to join the 2nd Battalion of Gard in December of 1791. The next year he served with the Guides à Cheval of the Army of the Alps and then in 1793 he was promoted to sergeant major in the 1st Battalion of Volunteers of Haute-Loire. That year Mouton-Duvernet served at the Siege of Toulon , and after the conclusion of the siege his unit joined the Army of Italy where he would serve for the next five years. In 1794 he received a promotion to capitaine in the Army of Italy.
1796 saw General Napoleon Bonaparte arriving to take command of the Army of Italy. Mouton-Duvernet served on the campaign that year and in May he was transferred to the 75th Ligne. That November he fought at the Battle of Arcola where he was wounded by a shot that broke his right leg. Mouton-Duvernet stayed with the Army of Italy and in August of 1797 he became an aide-de-camp to Chambarlhac. Two years later he became an aide-de-camp to General Gareau and he received a promotion to chef de bataillon. Both Gareau and Mouton-Duvernet were sent to Malta to reinforce the garrison there, but when the island surrendered to the English in early 1800 they were both taken prisoner.
Once Mouton-Duvernet was released, he was initially assigned to Italy and then in 1802 he was appointed an aide-de-camp to General Lesuire. The following year he was named chef de bataillon in the 3rd Ligne and sent to the camps along the coast facing England. When war broke out in 1805, Mouton-Duvernet took part in the campaign that year with the 3rd Ligne. The following year he was appointed major in the 64th Ligne and after serving against Prussia he was promoted to colonel of the 63rd Ligne in February of 1807.
In 1808 Colonel Mouton-Duvernet was sent to Spain where he served as part of Villatte's division. That year he also became a Baron of the Empire and served at Valmaseda and Espinosa in November. Continuing to serve in Spain into 1809, Mouton-Duvernet fought at Uclès and Medellin before he was recalled to Germany to take command of a regiment of conscripts of the 1st Chasseurs à Pied of the Imperial Guard. He then served on the Danube campaign in Germany and Austria of that year. In 1810 Mouton-Duvernet was sent back to Spain, and in 1811 he was appointed Colonel of the 4th Voltigeurs of the Imperial Guard. Later that year he was promoted to général de brigade in the Guard and then in 1812 he was named a Commander of the Legion of Honor.
Mouton-Duvernet returned from Spain in 1813 to take part in the campaigns in Germany. After taking command of the 2nd Brigade of the 2nd Division of the Young Guard, he served at Bautzen in May. That August Mouton-Duvernet was promoted to général de division and then given command of the 42nd Division of XIV Corps under Marshal Gouvion St. Cyr. He served at Dresden and then Kulm and then took part in the defense of Dresden until the city was forced to surrender in November. Taken prisoner by the Allies, he was only allowed to return to France in June of 1814 well after Napoleon's abdication.
At the start of 1815 General Mouton-Duvernet was appointed commander at Valence in the 7th military division. When he learned of Napoleon's escape from Elba and landing in France, he went to join Napoleon. After Napoleon resumed power in Paris, Mouton-Duvernet was then given a special mission in the département of Haute-Loire. Next Mouton-Duvernet was given command of five départements by Marshal Suchet in April. In May he was named a representative of Haute-Loire to the chamber of representatives, and at the end of the month he took command of the 19th military division at Lyon.
After Napoleon's second abdication, Mouton-Duvernet returned to Paris where he proposed to the chamber of representatives that Napoleon's son, known as Napoleon II, should be proclaimed emperor. Unsuccessful in this, he next took command of the 1st military division at Paris and took part in negotiating the surrender of Paris. Mouton-Duvernet was then sent back to Lyon and the 19th military division until his name came out on the proscription list of July 24, 1815. He fled and went into hiding with a royalist friend, Monsieur de Meaux. In 1816 Mouton-Duvernet came out of hiding, considering the situation calm enough to gain leniency. Unfortunately he misjudged the grudges held against him, and he was arrested and thrown into prison at Montbrison. A council of war judged him and condemned him to die, and after his appeal was denied a firing squad carried out his execution at Lyon.

Bibliography
Updated May 2019
© Nathan D. Jensen