General François Watrin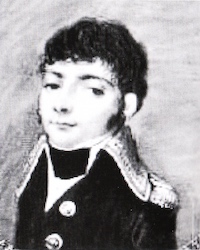 Général de division who fought at Novi and Marengo but died at Saint-Domingue from illness
---
Born: January 29, 1772

Place of Birth: Beauvais, Oise, France

Died: November 22, 1802

Cause of Death: Illness

Place of Death: Port-au-Prince, Saint-Domingue

Arc de Triomphe: WATRIN on the north pillar
Pronunciation:
François Watrin began his military career in October of 1792 when he joined a unit that would later become the 17th Chasseurs à Cheval. After serving near Mons and Antwerp, in 1793 he received numerous promotions, including to sous-lieutenant, lieutenant, and capitaine before fighting at Hondschoote in September. At the end of the year he was again promoted, this time to chef de bataillon.
Joining the Army of the North, Watrin later served in Moreau's division and then in 1795 he was promoted to chef de brigade. During the first half of 1796, Watrin was promoted to général de brigade and then served in the Army of the Coasts before being transferred to the Army of the Sambre and Meuse in September. In April of 1797 he took command of the reserve of infantry under General Hoche and seized a redoubt for the crossing of the Rhine at Neuwied. Within a few days he also took Dietz and Neuhoff.
General Watrin was next designated for the expedition to be sent to Saint-Domingue, and in January of 1798 he embarked on the frigate La Bravoure with General Hédouville. They arrived two months later and stayed there until that October when they returned to France. Next Watrin served with the Army of Rome and then the Army of Naples, and he fought and won at Salerno in April of 1799. Over the next two months he fought at Germano, Isola, and Trébie, and he was then promoted to général de division and given command of the 4th Division of the right wing of the Army of Italy. At the Battle of Novi in August, Watrin served on the right under Gouvion St. Cyr. Watrin finished out the year by fighting at Recco, Bosco, and Novi again, and then winning at La Bocchetta in December.
In March of 1800, Watrin was given command of a division in the Army of the Reserve, and his division became the 4th Division of the Advance Guard under General Lannes. As the campaign got underway, his troops seized d'Aoste, fought at Châtillon, seized Ivrée, and fought at La Chiusella in May. In June his division was critical to the French victories at Montebello and Marengo, and after Marengo Watrin received a saber of honor.
General Watrin next took command of the 2nd Division of Army of Italy, and in December he fought at Goito, Pozzolo, and then the crossing of the Mincio. In 1801 he was sent to Elba where in September he repulsed a British landing, causing 1200 casualties to the British and taking 2000 prisoners. The next month he went on extended leave due to illness.
In April of 1802, Watrin was selected to return to Saint-Domingue. He arrived at Cap Haitien in October, and he was put in charge of Port-au-Prince a few weeks later. Unfortunately Watrin fell ill with yellow fever and he died on November 22nd, barely a month after his arrival.

Bibliography
Updated June 2014
© Nathan D. Jensen