General Gilbert-Désiré-Joseph Bachelu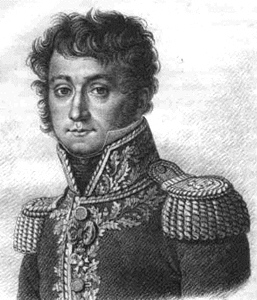 Général de division noted for his defense of Danzig in 1813
---
Born: February 9, 1777

Place of Birth: Dôle, Jura, France

Died: June 16, 1849

Place of Death: Paris, France

Arc de Triomphe: BACHELU on the south pillar
Pronunciation:
Gilbert-Désiré-Joseph Bachelu was the son of an auditor in the city of Dôle. Too young to serve in the military at the beginning of the Revolution, in 1794 he was accepted into the engineering school at Metz as a sous-lieutenant. The following year Bachelu joined the Army of the Rhine and received two promotions, to lieutenant and then to capitaine.
In 1798 Bachelu joined the Army of the Orient and traveled with them to Egypt. The next year he distinguished himself at the defense of Kosséir, and then in 1800 he again distinguished himself, this time at the defense of Cairo. Afterwards Bachelu was promoted to chef de bataillon by General Kléber.
After returning to France in 1801, Bachelu briefly served as deputy director of fortifications before being designated for the expedition to retake Saint-Domingue. After arriving at Saint-Domingue, he took part in the attack on the fort of Crête and then in July of 1802 he was promoted to chef de brigade and made General Leclerc's aide-de-camp. After Leclerc's unfortunate death due to yellow fever, Bachelu set sail with Pauline Bonaparte to return to France. Bachelu was then made the chief of staff of engineers of the camp of Boulogne.
In 1805 Bachelu was named colonel of the 11th Ligne that was serving in Holland under General Marmont. His unit became part of the II Corps of the Grande Armée, and over the next many years he served in Dalmatia. In 1806 Bachelu distinguished himself at Castelnuovo. June of 1809 saw Bachelu promoted to général de brigade and then employed in the 1st Division of Marmont's XI Corps before going on to fight at the Battle of Wagram in July.
General Bachelu was next sent to the Army of Illyria in 1810 and then named a Baron of the Empire. In 1811 he became deputy commander at Danzig and then served with the staff at Danzig. For the campaign in Russia in 1812, Bachelu commanded a brigade in Macdonald's command and served in Russia. During the retreat he took command of the rearguard and covered the retreat from Tilsit to Danzig, fighting off the enemy at Labiau, Rosenberg, and Stublau. Bachelu then remained at Danzig throughout 1813, defending the city and receiving a promotion to général de division in June. When the city was finally forced to surrender, he was taken prisoner and held until after Napoleon's abdication in 1814.
General Bachelu returned to France and was made a Knight of Saint Louis but he rallied to Napoleon when Napoleon returned from Elba in 1815. Given command of the 5th Division of Reille's II Corps, he took part in the campaign in Belgium that June and served at Quatre Bras and Waterloo, where he was wounded in the attack on Hougoumont. After Napoleon's second abdication, Bachelu was put on non-activity by the restored Bourbons and then thrown in prison. Finally brought to trial, he was exiled from France but allowed to return in 1817. In 1830 he began a successful political career representing Jura.

Bibliography
Updated April 2014
© Nathan D. Jensen