Intendant General Jean-Pierre-Paulin-Hector Daure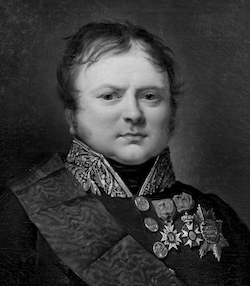 Chief commissary of the army in Egypt, Saint-Domingue, and Russia
---
Born: November 7, 1774

Place of Birth: Courbevoie, Hauts-de-Seine, France

Died: January 8, 1846

Place of Death: Paris, France

Arc de Triomphe: DAURE on the west pillar
Pronunciation:
Jean-Pierre-Paulin-Hector Daure joined the French army as a sous-lieutenant of hussars in 1791. Over the following years he became an aide-de-camp to General Custine before being appointed a commissary of war under Moreau. In 1797 he served as a commissary to the Army of Italy, and then the following year he took part in the expedition to Egypt where Napoleon appreciated his talents and made him the chief commissary. However, after Napoleon's departure and Kléber's assassination, Daure was associated with Generals Reynier and Damas and arrested alongside them in May of 1801. Daure was placed aboard the sloop Good Union that sailed for France but was intercepted and captured by the British.1 Once back in France, Daure was designated to serve on the expedition to Saint-Domingue as chief commissary of the army and the colonial prefect. While there he struggled to manage the accounts and once he returned to France he was asked to appear before the High Court, but First Consul Bonaparte prevented this and squashed the scandal.
After that scandal, Daure was left unemployed by the government for many years until 1809 when Marshal Murat, now the King of Naples, summoned him to Naples. Murat named Daure a Councilor of State and Minister of War and the Navy and a count. Daure couldn't stay out of trouble though, two years later he was forced to return to France after Murat discovered proof of an affair between his wife Caroline and Daure. In 1812 Daure was employed in the Grande Armée for the campaign against Russia as chief commissary. The next year he served during the campaigns in Germany as chief commissary of subsistence, ensuring the procural of food.
In 1815 when Napoleon returned from exile for the Hundred Days, Daure served as Intendant General. Twenty years later under Louis-Philippe he became the director of the administration of war.
Notes
Bibliography
Updated March 2017
© Nathan D. Jensen