General Pierre François Marie Auguste Dejean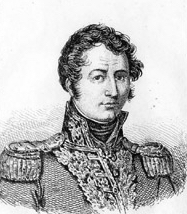 Son of an engineering general who later became an aide-de-camp to Napoleon
---
Born: August 10, 1780

Place of Birth: Amiens, Somme, France

Died: March 17, 1845

Place of Death: Paris, France

Arc de Triomphe: DEJEAN, A. on the south pillar
Pronunciation:
The son of engineering officer General Dejean, Pierre François Marie Auguste Dejean first joined the army in March of 1795 as an aide-de-camp to his father. He served in the Army of the Sambre and Meuse and then the Army of the North and in August of 1796 he was commissioned as a sous-lieutenant. Dejean was promoted to lieutenant in August of 1797 and then in 1800 and 1801 he served in the Army of Italy. He received a promotion to capitaine in January of 1801 and then in 1803 he joined the 20th Dragoons. That year and the following two years Dejean served with the Army of the Coasts of the Ocean and when the Grande Armée marched east in 1805 he served with them. In September of 1805 he was promoted to chef d'escadrons. After serving on the campaigns against Austria and then Prussia, in February of 1807 Dejean was promoted to colonel of the 11th Dragoons. He and his men joined Grouchy's division that April.
In 1808 Dejean was rewarded as a Baron of the Empire and then sent to serve in the Army of Spain. In 1810 he joined the Army of Portugal and then the following year he was promoted to général de brigade and employed in Montbrun's division. Dejean was next sent to Germany where he took command of a brigade of cuirassiers and he led them on the campaign to Russia of 1812. After surviving the retreat and back in friendly territory, he became an aide-de-camp to Emperor Napoleon and served on the campaigns in Germany of 1813. In August of that year Dejean took command of the 1st Brigade of the Guards of Honor and then that December he was sent to command Huningue to organize its defense. For the defense of France of 1814, Dejean first organized the levée en masse in Lorraine and then the département of Meurthe before rejoining the army in Champagne. He served at the Battle of Montereau in February and then in March he was promoted to général de division. Dejean was next sent to Paris with Joseph Bonaparte to defend the city, but he could not prevent Marshal Marmont's defection and the surrender of the city.
After Napoleon's abdication in April of 1814, Dejean was confirmed in his rank as a lieutenant general and rewarded as a Knight of Saint Louis by the restored Bourbons. Nevertheless, when Napoleon returned from exile and resumed power in 1815 without a shot being fired, Dejean rallied to him and was appointed an aide-de-camp to Napoleon again. He served at the Battle of Ligny and then after Napoleon's second abdication Dejean was included in the ordonnance of July 24, 1815. Forced to leave France, Dejean traveled to Styria, Croatia, and Dalmatia. He was authorized to return to France in 1818. Dejean later served in his father's seat as a Peer of France and he published a number of books on beetles.

Bibliography
Related Pages:
Updated August 2017
© Nathan D. Jensen