General Joseph-Marie Dessaix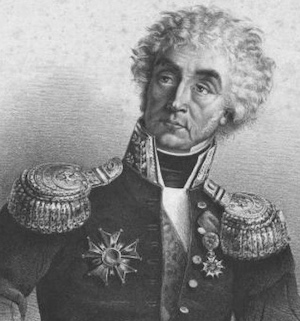 Général de division who served at Wagram and Borodino
---
Born: September 24, 1764

Place of Birth: Thonon, Haute-Savoie, France

Died: October 26, 1834

Place of Death: Thonon, France

Arc de Triomphe: DESSAIX on the north pillar
The son of a doctor, Joseph Marie Dessaix followed in his father's footsteps and studied medicine. After receiving his doctorate at Turin, he moved to Paris to practice medicine but the lure of the Revolution altered his career path. In July of 1789 Dessaix volunteered to join the National Guard of Paris. Traveling to Savoy, Dessaix took part in a riot but then was captured and condemned to die. He escaped and took refuge in Paris and then in August of 1792 he became a capitaine in the Legion of Allobroges. A few days later he participated in the attack on the Tuileries on August 10th and three days later he became a chef de bataillon with the Legion of Allobroges.
Dessaix went on to help Doppet organize the legion at Grenoble and then served in Savoy, fighting at Chambéry. In 1793 he became the chief of the legion and served at the Siege of Toulon where he was badly wounded. Next he was sent to the Army of the Eastern Pyrenees where he distinguished himself at Saint-Laurent-de-la-Mouga. Dessaix continued to serve and fought at Campredon and Belver.
At the end of 1795, Dessaix and his men transferred to the Army of Italy. Once there, he fought at Saint-Jean-en-Piémont where he was wounded by a bayonet blow to the head. When General Bonaparte arrived in 1796 to assume command of the army, Dessaix was serving in Augereau's division. He took part throughout the campaign that year, serving at Lodi , Salo, Rocca d'Anfo, Storo, Riva, Mori, and San Michele. That November he fought at Rivoli where he was wounded and taken prisoner, and afterwards he was transported as a prisoner to Hungary where he remained for seven months.
Once released, Dessaix returned to Italy as a chef de brigade of the 27th Light. In 1798 he was elected to the Council of 500 as a deputy of Mont-Blanc. When General Bonaparte returned from Egypt and staged a coup d'état, Dessaix opposed him. Nevertheless, Dessaix was given a command in the army again, being sent to Switzerland to resume command of the 27th Light.
In 1803 Dessaix was stationed at Hanover and promoted to général de brigade. The following year he went to the camp of Utrecht where he took command of the 1st Brigade of the 1st Division under General Marmont. When war broke out in 1805, his unit became part of II Corps. Taking part in the campaign that year, Dessaix served at Ulm.
General Dessaix's next major command came in 1809 when he joined the Army of Italy as commander of the 2nd Brigade of the Broussier's division. Commanding the advance guard, he was wounded by two shots at the combat of Venzone in April. In May he fought at Piave, Livenza, Villanova, Venzone, Tarvis, and San Michele. After the two French armies linked up, Dessaix fought at Wagram where he was wounded in the thigh. A few days later he was rewarded with a promotion to général de division.
For the next few years Dessaix commanded a division in various locales and during this time he became a Grand Officer of the Legion of Honor. For the Russian campaign of 1812 he took command of the 4th Division of I Corps. Leading his men into action, he was wounded at Mohilew and served at Smolensk before having his arm shattered by grapeshot at Borodino. Evacuated to recover, Dessaix was named commander of Berlin but he fell ill and returned to France.
General Dessaix was finally fit enough to hold a command again in early 1814. He took command of the National Guard of Mont-Blanc and forced the enemy to evacuate Chambéry, then won at Pontcharra. After seizing Aix-les-Bains in February, he won at Saint-Julien in March and then repulsed the enemy at Aiguebelle. For his successes here, people began to refer to him as the Bayard of Mont-Blanc.
After Napoleon's abdication, Dessaix was made a Knight of Saint Louis by the returning Bourbons. When Napoleon returned from exile in 1815, he gave Dessaix command of the 23rd Infantry Division in the Army of the Alps under Marshal Suchet. He covered the retreat on Lyon and signed a suspension of arms, then retired. In May of 1816 he was arrested and imprisoned at the Fort of Fenestrelles, where he remained until he was released in September.

Bibliography
Updated May 2014
© Nathan D. Jensen