General Auguste Charles Joseph de Flahaut de la Billarderie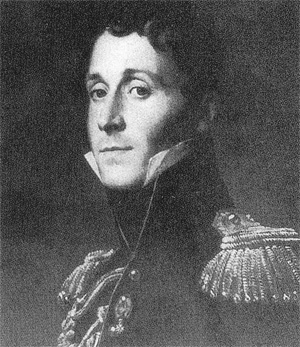 Son of Talleyrand who became an aide-de-camp to Napoleon and cavalry general
---
Born: April 21, 1785

Place of Birth: Paris, Paris, France

Died: September 1, 1870

Place of Death: Paris, France

Arc de Triomphe: FLAHAUT on the west pillar
Pronunciation:
The illegitimate son of Talleyrand and Madame de Souza, Auguste Charles Joseph de Flahaut de la Billarderie, known as Charles de Flahaut, was just a child when the French Revolution began. When his mother fled France during the Revolution, she took him with him but they finally returned to France in 1797. In 1799 he began studying to be an engineer for the Navy, but the next year he instead joined a group of volunteer hussars. His first assignment was with the 5th Dragoons in the Army of the Reserve, which he served with at the Battle of Marengo.
In 1801 Flahaut de la Billarderie was commissioned as a sous-lieutenant and then the next year he became an aide-de-camp to General Murat. In 1803 he was promoted to lieutenant and then in 1805 he took part in the campaign against Austria and Russia. During that campaign, he fought at Nuremberg and was then wounded by a ball to the arm at Enns. A promotion to capitaine in early 1806 followed and then in 1807 Flahaut received a promotion to chef d'escadrons and was assigned to the 13th Chasseurs à Cheval. Later that year he was sent to Portugal, and he then served in Spain for part of 1808 before becoming an aide-de-camp to Marshal Berthier. During the Danube campaign of 1809, Flahaut served in Germany and he received a promotion to colonel before serving at the Battle of Wagram .
In 1810 Flahaut de Billarderie became a Baron of the Empire and a Commander of the Order of Saint Henry of Saxony. During this time he also began an affair with Queen Hortense, Napoleon's stepdaughter. From this relationship a son was born who would become the Duke of Morny.
In 1812 Flahaut served during the Russian campaign, notably distinguishing himself at the combat of Ostrowno in July. That December he was promoted to général de brigade, and then the next year he served in Saxony. A week after the Battle of Leipzig , he became an aide-de-camp to Napoleon and simultaneously he was promoted to général de division. A few months later he was named a Count of the Empire. Flahaut served during the defense of France in 1814 and that February he was sent by Napoleon to negotiate unsuccessfully with the allies.
After Napoleon's abdication, the Bourbons named Flahaut a Knight of Saint Louis but then put him on non-activity. During the Hundred Days, Flahaut resumed his position as an aide-de-camp to Napoleon. Napoleon sent him to Vienna to negotiate the return of the Empress Marie Louise, but the Austrians prevented him from traveling further than Stuttgart so he returned to France. He rejoined Napoleon and served at Quatre Bras and Waterloo in June. After the loss of Waterloo, Flahaut spoke in favor of proclaiming Napoleon II as the legitimate ruler of France. He served under Exelmans for the rest of June and then commanded a division of cavalry in July until he was proscribed. Initially included on the ordinance of July 24, 1815 that proscribed a number of officers, his father Talleyrand used his influence with King Louis XVIII to get Flahaut's name removed from the list. Despite this, it was recommended that Flahaut leave the country for his own safety. Flahaut took refuge in England for a number of years where he married the daughter of Admiral Keith in 1817.
In 1830 Flahaut returned to France and he was reintegrated into the French army. In 1831 he became a Peer of France and in 1832 he became an aide-de-camp to the Duke of Orléans, King Louis Philippe. From 1841 to 1848 Flahaut served as ambassador to Vienna, in 1852 he became a senator, and from 1860 to 1864 he served as ambassador to London.

Bibliography
External Links:
Updated February 2022
© Nathan D. Jensen