General Philibert Fressinet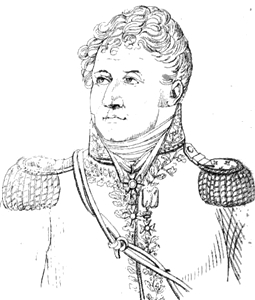 General who served in Saint-Domingue for a number of years
---
Born: July 21, 1767

Place of Birth: Marcigny, Saône-et-Loire, France

Died: August 2, 1821

Place of Death: Paris, France

Arc de Triomphe: FRESSINET on the east pillar
Pronunciation:
Joining the army at the young age of sixteen, Philibert Fressinet enlisted as a dragoon in the Queen's Regiment in 1784. In 1789 he left the army, only to reappear in 1792 as a lieutenant in a free company formed at Cap-Haïtien. Serving in Saint-Domingue, Fressinet was promoted to capitaine in 1796 and then chef de brigade in 1796. In 1797 he returned to mainland France where he was employed in the Army of Germany.
In 1798 Fressinet served with the Army of Switzerland and seized Einsiedeln before joining the Army of Mainz. The following year he served in Dessolle's division and fought at Tauffers where he was promoted to général de brigade. Five months later Fressinet was sent to the Army of Italy where in November he seized the entrenchments of Castelletto. In April of 1800 Fressinet joined Gardanne's division at Genoa and he took part in the attack on the mountain of Hermette. Barely more than a week later he fought at Ponte Inurea where he was hit in the thigh by a ball and then struck by a ball to the head. Nevertheless, Fressinet survived and returned to France in 1801.
At the end of 1801 Fressinet was designated to serve on the expedition to Saint-Domingue. He arrived there in March of 1802 and served in Debelle's division until Debelle's death due to illness. Afterwards, Fressinet was employed at Saint-Marc and then named commander of Port-au-Prince. In August of 1803 he evacuated Jérémie and set sail for Cuba, but the English intercepted his ship and he was taken prisoner and transported to Jamaica. The English governor gave Fressinet permission to return to France for a few months, and after he returned to France Napoleon authorized him to not return to English custody.
However, Fressinet was not employed in the army again for a number of years. In 1807 he was exiled from Paris and ordered to stay at least forty miles from the city by order of the Minister of Police. Fressinet moved first to Bordeaux and then to Lucques.
In 1810 Fressinet was finally reemployed and sent to the Army of Naples. In 1811 he was made available to General Grenier and then in 1812 he took command of the 1st Brigade of Grenier's division. With a need for experienced generals in 1813, Fressinet was sent to General Gérard to command a brigade of the 31st division of XI Corps. Serving in Germany that year, he fought at Lützen in May and afterwards was named a Baron of the Empire. Continuing to serve well, Fressinet was named a Commander of the Legion of Honor in August and promoted to général de division in September. Later that month he took command of the 16th Division of V Corps, and then in January of 1814 he was sent to the Army of Italy where he fought at the Battle of the Mincio in February.
After Napoleon's abdication in 1814, Fressinet was named a Knight of Saint Louis but also put on non-activity. When General Exelmans was arrested and put on trial in early 1815, Fressinet led the defense of Exelmans and Exelmans was ultimately acquitted. When Napoleon returned from exile in 1815 for the Hundred Days, Fressinet rallied to him and was given command of the 27th Infantry Division in the Eastern Pyrenees. After Napoleon's second abdication, Fressinet was proscribed and exiled and he left France. At some time during his exile he ended up in Rio de Janeiro, and in 1819 he was finally authorized to return to France. Fressinet made it back to France in 1820, but that year he was arrested and imprisoned for three weeks before being released.

Bibliography
Updated October 2014
© Nathan D. Jensen