General Claude-Etienne Guyot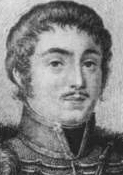 Commander of the Chasseurs à Cheval and later the Grenadiers à Cheval of the Imperial Guard
---
Born: September 5, 1768

Place of Birth: Villevieux, Jura, France

Died: November 28, 1837

Place of Death: Paris, France

Arc de Triomphe: GUYOT, C. on the west pillar
Pronunciation:
Claude-Etienne Guyot was a cavalry general best known for his service in the Chasseurs à Cheval of the Imperial Guard and who was also good friends with Daumesnil and Drouot. He first joined the cavalry in November of 1790 when he joined the chasseurs à cheval of Bretagne. In 1792 Guyot served in the Army of the Rhine, and the next year was promoted to sous-lieutenant and joined the Army of the Moselle. After a brief stint in the Vendée in 1794, he served in Italy in 1796. In 1797 he received a promotion to lieutenant and then in 1799 he was with the Army of Germany when he was promoted to captain.
In 1802 Captain Guyot officially joined the Chasseurs à Cheval of the Consular Guard. In 1804 he was promoted to chef d'escadrons, and then he took part actively in the campaigns that followed over the next few years. In 1805 he served at Austerlitz and in 1807 at Eylau. After Eylau, he was promoted to colonel in the guard.
In 1808 Guyot became a baron and Knight of the Iron Crown, and also followed Napoleon to Spain, leading a detachment of chasseurs. After his superior General Lefebvre-Desnouettes was captured by the British, Guyot assumed unofficial command of the 2nd Chasseurs à Cheval. However, Napoleon proclaimed that the command of that regiment would be vacant until Lefebvre-Desnouettes' return, and so Guyot never received the official title.1 Guyot and the chasseurs followed Napoleon on to the Danube campaign, and took part in the Battle of Wagram . A month after the battle he was promoted to général de brigade.
1810 saw General Guyot honored as a chamberlain to the emperor, and in 1811 he returned to Spain, became a Commander of the Legion of Honor, and was promoted to général de division. For 1812, Guyot led the chasseurs of the Imperial Guard throughout the Russian campaign and retreat. Guyot was quite busy in 1813, fighting and being wounded at Lützen, then serving at Bautzen. Next he became a count and was taken prisoner at Kulm in late August but then exchanged. He fought at the Battle of Leipzig that October and after General Walther died suddenly he took Walther's place in charge of Grenadiers à Cheval of the Imperial Guard.
Guyot continued to serve into 1814, fighting at Brienne, la Rothière, Champaubert , Montereau , Craonne, and Reims. After Napoleon's abdication he received a reward as a Knight of Saint-Louis and was placed with the Royal Cuirassiers, but he rejoined Napoleon on Napoleon's return from Elba. Napoleon gave Guyot command of a division of heavy cavalry of the Imperial Guard, and Guyot led them into action at Waterloo, where he was wounded by two shots. He served briefly in the Army of the Loire afterwards and then retired in 1816.
Notes
Bibliography
External Links:
Updated February 2015
© Nathan D. Jensen