General Jean-Joseph-Amable Humbert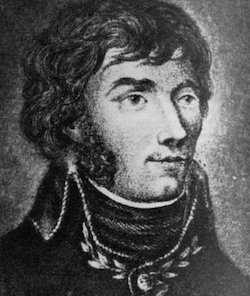 Général de brigade of the Revolution who took part in the expeditions to Ireland and the Battle of New Orleans
---
Born: August 22, 1767

Place of Birth: Saint-Nabord, Vosges, France

Died: January 3, 1823

Place of Death: New Orleans, United States


Pronunciation:
Originally making a living as a rabbit hunter, Jean-Joseph-Amable Humbert first joined the military in July of 1789 when he joined the National Guard of Lyon. Three years later he joined the 13th Battalion of Volunteers of Vosges and that August he was promoted to capitaine and then lieutenant colonel in the battalion. In April of 1794 Humbert was promoted to général de brigade and employed in the Army of the Coasts of Brest. The next year he served under Hoche at Quiberon and went on to fight at Sainte-Barbe and Fort Penthièvre.
In 1796 General Humbert was designated for the Army of the Rhine but this was in fact a cover story for a secret mission to prepare an expedition to invade England. When the French Republic launched the expedition to Ireland that December, Humbert embarked on the ship Les Droits-de-l'Homme and then took part in the naval battle against the British on January 7, 1797. A week later his ship was shipwrecked at the Bay of Audierne but Humbert survived. Afterwards, he was sent to the Army of the Sambre and Meuse to serve in Watrin's division. That September Humbert took part in the coup of 18 Fructidor that suppressed the royalist factions of the government and prevented them from gaining control.
In 1798 General Humbert again took part in an expedition to Ireland. He left Rochefort that August with 1500 soldiers and disembarked at Killala in Ireland, joining up with Irish insurgents there. Immediately seeing action, he and his men won at Ballina on the 24th of August and then fought the British at Castlebar three days later, winning again. Humbert and his men left Castlebar and proceeded to defeat a British force at Collooney. However, the British net was closing around Humbert's small force and French reinforcements had not arrived. Humbert's force was eventually surrounded at Ballinamuck by significantly superior numbers of British troops led by Lord Cornwallis. Facing such odds, he surrendered and his men were exchanged and returned to France in October.
Humbert went on to join the Army of Switzerland in April of 1799 and that May he was driven out of Lucisteig. Next he joined Soult's division and he was lightly wounded by a shot during the defense of the camp near Zurich on June 4th. Humbert was given command of the reserve of grenadiers and then fought at the Battle of Zurich in September and at Andelfingen in October. After a brief stint with the Army of the Rhine, he was sent to the Army of the West, but he left his post without authorization in June of 1801.
General Humbert was next selected to take part in the expedition to Saint-Domingue and he was given a position in Rochambeau's division. After arriving in Saint-Domingue, he fought at the action of Cap-Haïtien and then seized Port-au-Prince and Port-de-la-Paix in February of 1802. Humbert was named commander of Môle Saint-Nicolas that summer, but he fell ill and was replaced until he was well enough to resume command. Shortly after Humbert resumed his command that August, General Brunet accused him of plundering and Humbert was ordered to return to Cap-Haïtien. However, Humbert refused the order and remained at Môle Saint-Nicolas until that September when he handed over his command to General Morpas. The commander of the expedition, Napoleon's brother-in-law General Leclerc, sent Humbert back to France due to the questions about his behavior and actions.
Once back in France, Humbert was put on non-activity and he retired to Morbihan. In 1809 he was called back to service to serve in the Army of the North, but in 1810 he retired again. Without waiting for authorization, he booked passage on a ship sailing to the United States and went to New Orleans.1 In July of 1812 he was granted permission to enter into the service of the army of the United States. Humbert did not stay inactive, in 1814 he went to Buenos Aires and joined the insurgents there, briefly commanding a corps in their army. Afterwards, he returned to New Orleans.
In January of 1815, with the misnamed War of 1812 still going on between the Americans and British, Humbert was at New Orleans when the British threatened that city. Humbert issued a call to arms to the French living there, stating, "Frenchmen, you will arm yourselves to defend a country who granted you a refuge when British intrigues had left you homeless. You will be fighting for people who have welcomed you as brothers and given you the right of citizens. Honor, patriotism, gratitude urge you to fight and I do hope this appeal will find you responsive." Humbert took part in the Battle of New Orleans, and afterwards General Andrew Jackson thanked him.2
In later years Humbert traveled to Texas and Mexico to take part in adventures there, and upon his return to New Orleans he was arrested for alleged piracy against the Spanish. A group of Frenchmen in Louisiana came to his defense as did the Governor of Louisiana, and he was released.3
Notes
Simone de la Souchère Deléry, Napoleon's Soldiers in America, (Gretna: Pelican Publishing, 1950), 25.
Ibid., 28-29.
Ibid., 73-74.
Bibliography
Updated October 2015
© Nathan D. Jensen