General Armand Charles Louis Le Lièvre de La Grange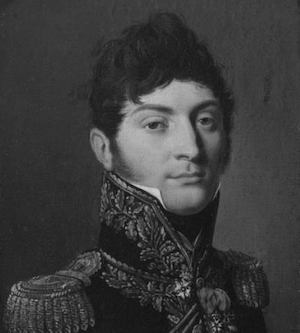 Aide-de-camp to Marshal Berthier who became a successful cavalry commander
---
Born: March 21, 1783

Place of Birth: Paris, Paris, France

Died: August 2, 1864

Place of Death: Paris, France

Arc de Triomphe: DELAGRANGE, CH. on the east pillar
Pronunciation:
The son of a general and younger brother of Adélaïde Blaise François Le Lièvre de La Grange, Armand Charles Louis Le Lièvre de La Grange joined the army in 1800 as a hussar volunteer. That May he joined the 9th Dragoons and before long he saw action, fighting at and being wounded at the Battle of Marengo. Commissioned as a sous-lieutenant in October, La Grange served in Italy in 1801 and in 1802 he followed General Sébastiani to Constantinople. During his time abroad he visited Turkey, Syria, Germany, and the Tyrol and in 1803 he was back in France and serving in the Army of the Coasts of the Ocean.
In 1804 La Grange became an aide-de-camp to Sébastiani and then in 1805 he became an aide-de-camp to Marshal Berthier. Serving with the Grande Armée, he fought at the combat of Nuremberg in October of 1805 and was wounded at Amstetten in November. Next La Grange was promoted to capitaine in the 23rd Chasseurs à Cheval in January of 1806. That March he was sent on a confidential mission to Vienna and in October he took part in the campaign against Prussia, serving at Saalbourg. In January of 1807 La Grange was promoted to chef d'escadrons in the 9th Hussars and less than two weeks later he served at the Battle of Eylau. In the summer of 1807 he was named an adjudant commandant and he began serving near Berthier again.
In 1808 La Grange was named a Baron of the Empire and he was sent to Spain where he served at Madrid during the insurrection of May 2nd. The following year he was called to Germany to serve against Austria and he fought at the Battle of Eckmühl and Ratisbon. As the French army approached Vienna, La Grange was sent in to negotiate and he was wounded by a mob. Next he served at the Battle of Aspern-Essling and then the Battle of Wagram . In 1810 La Grange was named an equerry of the Emperor and a Count of the Empire. He also accompanied Berthier to Vienna to meet Marie Louise.
La Grange was promoted to général de brigade in early 1812 and he took command of the 2nd Brigade of the 5th Division of Cuirassiers commanded by Valence. He served on the campaign against Russia, commanding the imperial headquarters during the retreat. In 1813 La Grange served on the campaign in Saxony and that September he joined II Cavalry Corps. He went on to serve at Wittemberg and Leipzig and he distinguished himself at the Battle of Hanau. Taking part in the defense of France, La Grange was employed in the Young Guard. In March of 1814 he served at the attack of Laon, fought at Fère-Champenoise , and then helped defend Paris.
After Napoleon's abdication, the Bourbons promoted La Grange to lieutenant general and made him a Knight of Saint Louis. In 1815 during the Hundred Days La Grange was made available to the Minister of War to command depots and make inspections. Afterwards he continued a successful career.

Bibliography
Updated January 2021
© Nathan D. Jensen