General Edme Aimé Lucotte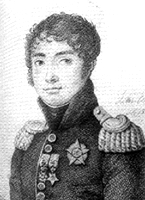 Aide-de-camp of Joseph Bonaparte known for his integrity
---
Born: October 30, 1770

Place of Birth: Créancey, Côte-d'Or, France

Died: July 8, 1825

Place of Death: Port-sur-Saône, France

Arc de Triomphe: LUCOTTE on the south pillar
Pronunciation:
Originally a student at the college of Dijon, Edme Aimé Lucotte volunteered to join the 8th Battalion of Côte-d'Or in July of 1793. Sent to the Army of the Alps, he was commissioned as a lieutenant that November. The next year Lucotte was sent to the Army of the Rhine where he was promoted to capitaine in August and then chef de bataillon in October. In June of 1795 he took command of the 60th demi-brigade at Lyon, and the next year he was still holding that position in July. That month Lucotte refused to shoot on the insurgent population of Lyon and for that he was dismissed, though only a month later he was reinstated in his rank. In June of 1797 he was promoted to chef de brigade of the 7th Light in the Army of Italy. In 1798 Lucotte was sent to Toulon but he was dismissed in July for arguing in defense of a sailor named Laure who was unjustly condemned to death. He was next sent to the join the Army of Egypt, but a storm forced his ship to take refuge at Ancona. Lucotte was promoted to général de brigade in November of 1798 and in 1799 he took part in the defense of Ancona under Monnier. He served at the attack of Pesaro in June and then was put on parole when Ancona was finally forced to surrender.
Lucotte returned to France where he served in a number of military divisions. In 1804 he was named a Commander of the Legion of Honor. In 1805 Lucotte joined the Army of Naples and in 1806 he served under Reynier and commanded a brigade of Partouneaux's division. After Joseph Bonaparte became King of Naples, Lucotte passed from French service to Neapolitan service and in January of 1808 he was promoted to général de division and named an aide-de-camp to King Joseph. He followed Joseph to Spain in 1808 and in 1809 he took part in the Battle of Talavera . King Joseph then named Lucotte governor of Seville, a position he held until 1813 when the French retreated from Spain. In November of 1813 Lucotte returned to French service as a général de brigade and he was sent to command a brigade in of the 1st Division of the Reserve of Paris. In February he began to serve under General Arrighi and in March he fought at Laon. When Marshal Marmont betrayed the troops at Essonne, Lucotte did not take part in the treason. Just before Napoleon's abdication, Napoleon promoted Lucotte to général de division and named him a Count of the Empire.
With Napoleon's abdication and the Bourbon Restoration, Lucotte was recognized as a Knight of Saint Louis by the Bourbons but also put on non-activity. When Napoleon returned from exile and resumed power in 1815 for the Hundred Days, he named Lucotte commander of the 20th military division. After the Bourbons were once again restored, Lucotte was again put on non-activity.

Bibliography
Updated May 2018
© Nathan D. Jensen