General Louis Partouneaux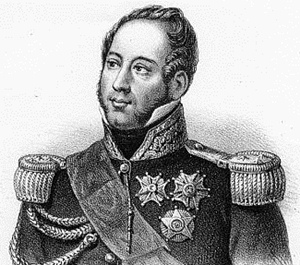 Général de division who surrendered his division at the Berezina
---
Born: September 26, 1770

Place of Birth: Romilly-sur-Seine, Aube, France

Died: January 14, 1835

Cause of Death: Apoplexy

Place of Death: Menton, France

Arc de Triomphe: PARTOUNEAUX on the south pillar
Pronunciation:
Louis Partouneaux, like many others of the time, joined the military by volunteering. He volunteered as a grenadier in the 1st Battalion of Volunteers of Paris in 1791. The next year he was a sous-lieutenant serving in the Army of the North, and then later that year a lieutenant. In 1793 Partouneaux was promoted to capitaine and then entered combat, fighting at Utelle in October and then distinguishing himself as commander of the scouts of the left wing at Castel-Gineste in November. Next he moved on to the Siege of Toulon where he was wounded in the right knee while going up an English redoubt, and in recognition he was promoted to chef de bataillon a few days later. In 1794 Partouneaux fought at Savona, and then in 1795 he was promoted to chef de brigade.
In January of 1796 Partouneaux joined the Army of Italy, and that April he became commander of the isle of Sainte-Marguerite. In October he was named commander at Pizzighettone, then in December he joined Rey's division as chief of staff and fought at Rivoli the following January. Partouneaux went on to fight at Klagenfurt and Neumarkt, and in 1798 he joined Baraguey d'Hilliers' division.
In 1799 Partouneaux joined Grenier's division, fighting at Verona and being promoted to général de brigade. That June he fought at San-Giuliano, and then in August he served under Pérignon. He was present at the Battle of Novi and wounded by a shot to the kidney before being taken prisoner. Partouneaux remained a prisoner of war for more than a year until he was finally exchanged for Austrian General Zach and returned to France in October of 1800.
Staff appointments followed for Partouneaux as he was made commander at Ehrenbreistein, employed in the 19th military division, and then in 1802 given command of the Alpes-Maritimes département. In 1803 he took command of the 3rd Division at the camp of Compiègne, and then a month later he took his division to the camp of Montreuil. Replaced in his command in 1804, he resumed a command in September of 1805 when he took over a reserve division of grenadiers in the Army of Italy. Partouneaux led his men into action at San-Michele and Caldiero that October and then in November he crossed the Tagliamento and Isonzo. Next he commanded a division of the corps blockading Venice.
Partouneaux continued his work in Italy, commanding a division in the Army of Naples throughout 1806. In 1808 he commanded a corps in Calabria, successfully pacifying the area. In the meantime he was also rewarded as a Grand Dignitary of the Order of the Two Sicilies. The next year he forced the English to lift their siege of Scilla, abandoning their artillery and munitions and allowing a large number of prisoners to be captured.
Partouneaux remained in Italy until 1812 when he took command of the 12th Division of the Grande Armée, eventually joining Victor's IX Corps. Leading them into Russia, he did not participate in much fighting, but a few weeks before the Battle of the Berezina he requested to be relieved of command due to an illness and his failing health.
During the Battle of the Berezina, Partouneaux's division held the rear guard holding Borisov, trying to allow stragglers more time to rejoin the army while simultaneously preventing the Russian forces from linking up. Unfortunately, he did not realize he was cut off from the rest of the army until a number of men kept streaming into town informing him of the fact. Despite the darkness, he immediately set out with his men along the road to Studienka to cut his way through to the rest of the army. As he and his men followed the road, they came to a fork in the road and unwisely chose the right path, away from the river. This path led them straight into the Russian army, and before long his division had been surrounded. Nevertheless, Partouneaux and various contingents of his division continued to try and either fight or sneak their way out of this trap, but they were eventually forced to surrender and taken prisoner.1
Napoleon heavily criticized Partouneaux for losing almost his entire division needlessly, but in 1813 while Partouneaux was still a prisoner Napoleon authorized the state to pay for the education of Partouneaux's three sons.2 Partouneaux was finally released and returned to France in July of 1814. The next year when Napoleon returned to power for the Hundred Days he did not give Partouneaux a command because of his conduct at the Berezina.
Notes
Alexander Mikaberidze, The Battle of the Berezina: Napoleon's Great Escape, (Barnsley: Pen & Sword Military, 2010), 162-170.
Bibliography
Updated January 2014
© Nathan D. Jensen