General Frédéric-Christophe-Henri-Pierre-Claude Marizy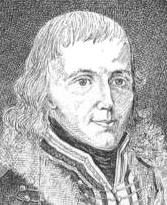 Général de brigade of cavalry who was assassinated in Spain
---
Born: July 8, 1765

Place of Birth: Altroff, Moselle, France

Died: February 1, 1811

Cause of Death: Assassinated

Place of Death: Talavera, Spain

Arc de Triomphe: MARISY on the south pillar
Pronunciation:
A cavalry officer, Frédéric-Christophe-Henri-Pierre-Claude Marizy began his military career as a cadet in the Conflans Hussars in 1779 before he was commissioned as a sous-lieutenant five years later. In 1788 he received a promotion to lieutenant and then in April of 1792 he was promoted to capitaine before he joined Kellermann's forces in July. Marizy served with the Legion of the Moselle in 1793 when he was promoted to chef d'escadrons, and then in June of 1794 he was promoted to colonel of the 7th Hussars. A short time later he was leading his men into battle at Mertensee.
In 1795 Marizy and his men served with the Army of the Rhine, and in 1796 they fought at Bopfingen where he was wounded by three saber blows. The next year he served at Willingen and his commander Bourcier wrote that Marizy was very brave and a good soldier but had no knowledge of administration. In 1798 and 1799 Marizy served with the Army of Switzerland and then in 1800 he joined the Army of the Rhine.
Marizy eventually received a promotion to général de brigade in the spring of 1803 and he was then sent to the Camp of Nimègue before going to Hanover. The following year he was rewarded as a Commander of the Legion of Honor, and then when war broke out in 1805 he took command of a brigade of cavalry with the I Corps of the Grande Armée. Marizy served under General Kellermann on the campaign that fall and he fought at Austerlitz in December where he was wounded. In 1806 General Marizy took part in the campaign against Prussia, commanding the 2nd Brigade of Beaumont's division. That December he fought at Nasielsk.
In 1808 Marizy was given a command in the 4th Dragoon Division in the Army of Spain and named a Baron of the Empire. The following year he served under Marshal Mortier and he fought at the bridge of Arzobispo where he was again wounded. Marizy continued to serve in Spain until February of 1811 when he was assassinated at Talavera de la Vieja.

Bibliography
Updated October 2014
© Nathan D. Jensen