General Marc Antoine Bonin de La Boninière de Beaumont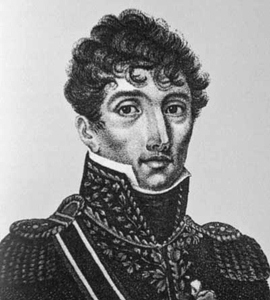 Brother-in-law to Marshal Davout and dragoon general who later served as a senator
---
Born: September 23, 1763

Place of Birth: Beaumont-la-Ronce, Indre-et-Loire, France

Died: February 4, 1830

Place of Death: Paris, France

Arc de Triomphe: BEAUMONT on the east pillar
Pronunciation:
Born into a noble family, Marc Antoine Bonin de La Boninière de Beaumont was appointed a page of King Louis XVI in 1777. In 1784 he was named a capitaine in the Dragoon Regiment of Lorraine. Despite being a noble, once the French Revolution was underway Beaumont did not flee the country, instead continuing to serve in the cavalry. In July of 1792 he was appointed lieutenant colonel of the 9th Dragoons and a few weeks later he was promoted to colonel of the 5th Dragoons. In 1793 he and his men served in the Army of the North, and sometime that year he was at Lyon with his regiment when he was arrested due to his noble birth. He was condemned to die and taken to the scaffold for execution when his dragoons intervened to free him just before he was to be executed.1 On January 8th of 1794, the representatives of the people put him back in charge of his unit and sent them to the Army of Italy.
In Italy Beaumont's first fight was at Cairo in September of 1794. The next year he was promoted to général de brigade and he became commander at Nice. When General Bonaparte assumed command of the Army of Italy in 1796, Beaumont took part in the campaign. Initially part of Stengel's division, he took Stengel's place after Stengel was badly wounded, but then relinquished that command to Kilmaine on May 3rd. Next Beaumont fought at Lodi and then took control of Cremona. His brigade was detached to serve under Masséna for a time and then he fought at Castiglione in August. Afterwards, he followed Wurmser's retreat. In January of 1797 Beaumont and his cavalry joined the force laying siege to Mantua and then in March he took command of a brigade in Dugua's division.
Beaumont remained with the Army of Italy and he next saw action in 1799 at Magnano where a ball hit him in the right shoulder. In 1800 he briefly commanded a reserve force under Suchet and then in July he received command of a brigade of Rivaud's division. At the end of the year he joined Delmas' division and fought at Valeggio. In July of 1801 Beaumont married the sister of General Davout and then in December of 1802 he was promoted to général de division.
For the campaign of 1805 against the Third Coalition, General Beaumont took command of the 3rd Dragoon Division in Marshal Murat's Cavalry Reserve. In October he fought at Wertingen, Ulm, Ried, and Lambach, and then in December he fought at Austerlitz. The next year he became an equerry to Madame Mére, Napoleon's mother, and then during the campaign against Prussia he fought at Jena, Zehdenick, Prentzlow, and Czarnowo. In 1807 Beaumont was appointed a senator and he was also named a Commander of the Iron Crown. The next year he received more awards, this time a Grand Cross of the Order of Military Merit of Maximilian of Bavaria and becoming a Count of the Empire. During the Danube campaign of 1809, Beaumont took command of a dragoon division in the Army of Germany and served in the reserve corps. He fought at Vorarlberg but did not take part in the more well known battles of the campaign.
After Napoleon's abdication in 1814, Beaumont was made a Peer of France and Knight of Saint Louis by the returning Bourbons. During the Hundred Days, he served briefly in the defense of Paris but otherwise did not take part. Afterwards he voted for death at the trial of Marshal Ney.
Notes
Bibliography
Related Pages:
Updated April 2023
© Nathan D. Jensen