General Nicolas François Roussel d'Hurbal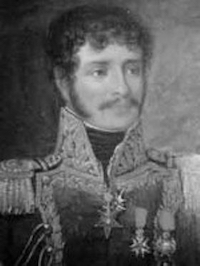 French born cavalry officer who served in Austria's army until 1810 and then returned to French service as a general
---
Born: September 7, 1763

Place of Birth: Neufchâteau, Vosges, France

Died: March 25, 1849

Place of Death: Paris, France

Arc de Triomphe: ROUSSEL D'H

AL

on the east pillar
Despite his French birth, Nicolas François Roussel d'Hurbal joined the Austrian army in 1782 and he would go on to serve against France for many years. In 1785 he was commissioned as a sous-lieutenant in the cavalry and in 1789 he was promoted to lieutenant. During that year and the next Roussel d'Hurbal served against the Belgian insurgents during their attempt at independence from Austrian rule in what was known as the Brabant Revolution. After France declared war against Austria, Roussel d'Hurbal served against France on the Rhine and in 1793 he fought at Aldenhoven where he was wounded by a shot. Later that year he was promoted to capitaine. From 1799 to 1801 he served in Germany. Roussel d'Hurbal continued to serve Austria as a cavalry officer and in 1804 he was named lieutenant colonel of the chevau-légers of Latour. He served in Austria during the War of the Third Coalition and during that campaign he was named a Knight of the Military Order of Maria Theresa. In 1807 Roussel d'Hurbal was promoted to colonel of the regiment of Liechtenstein. When Austria attacked Bavaria in 1809 prompting the War of the Fifth Coalition, Roussel d'Hurbal served during the campaign under Archduke Charles. He fought at the Battle of Aspern-Essling where he was wounded by a sabre blow to the helmet and after the battle he was promoted to general-major. Later that year Roussel d'Hurbal was named a Commander of the Order of Maria Theresa.
In October of 1810 Roussel d'Hurbal resigned from the Austrian army and returned to France. The following July he entered French service as a général de brigade and he joined the Army of Germany. For the campaign against Russia of 1812, Roussel d'Hurbal served in the staff of Marshal Davout's I Corps and for a time he was also detached as part of Bruyère's division. In July he won at Koseny and in September he fought at the Battle of Borodino where he was bruised by a ball to the leg. After surviving the retreat, Roussel d'Hurbal was promoted to général de division in December. In 1813 he took command of the 2nd Division of Light Cavalry of Sébastiani's II Cavalry Corps for the campaign in Saxony. He served throughout the campaign, fighting at the combat of Hanau in August and then the Battle of the Katzbach where he was badly wounded by a sabre blow to the skull. Roussel d'Hurbal was named a Baron of the Empire in September and he returned to Paris in November.
In January of 1814 Roussel d'Hurbal was named inspector general of the cavalry depot established at Versailles. In February he took command of the 7th Heavy Cavalry Division in Kellermann's VI Cavalry Corps. Less than a week later Roussel d'Hurbal was detached to II Corps to participate in the attack of Troyes. In March he charged the Russians at Craonne and then he fought at Laon, Fère-Champenoise , Sézanne, and the defense of Paris. When Marshal Marmont defected and led his troops into a trap to surrender, Roussel d'Hurbal took part in the in the defection and led his division to Evreux where they were forced to surrender.
After Napoleon's abdication and the Bourbon Restoration, Roussel d'Hurbal was given good commands as inspector general of cavalry for various areas. He was also named a Knight of Saint Louis. For the Hundred Days, Roussel d'Hurbal rejoined Napoleon's service and he was given command of the 12th Heavy Cavalry Division as part of Kellermann's III Cavalry Corps. He led his division into action at the Battle of Waterloo where he was wounded. He was briefly placed on non-activity after the Second Restoration, but he was then reinstated in the army and continued his career.

Bibliography
Updated October 2019
© Nathan D. Jensen