General Cyr Saint-Cyr-Nugues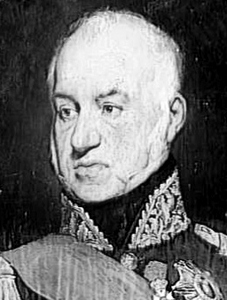 Aide-de-camp and later chief of staff to Marshal Suchet
---
Born: October 18, 1774

Place of Birth: Romans, Drôme, France

Died: July 25, 1842

Place of Death: Vichy, France

Arc de Triomphe: S

T

CYR NUGUES on the west pillar
Pronunciation:
The son of a merchant, Cyr Saint-Cyr-Nugues began his career as a commissary of war in October of 1792. He served in this position until mid 1793 and then over the following six years he served as a secretary for Generals Brune, Moreau, Joubert, and Championnet. In September of 1799 Saint-Cyr-Nugues was officially commissioned into the army as a sous-lieutenant in the 8th Light. He immediately joined the staff of the Army of Italy and then in 1800 he was promoted to lieutenant and in 1801 he was promoted to capitaine.
In 1802 Saint-Cyr-Nugues became an aide-de-camp to General Suchet and he served in this role at the camp of Saint-Omer from 1803 to 1805. He continued as Suchet's aide-de-camp throughout the campaigns that followed and in January of 1807 he was promoted to chef de bataillon. In October of 1808 Saint-Cyr-Nugues became an adjudant-commandant and Suchet's chief of staff and then in December he was employed with III Corps of the Army of Spain. In June of 1810 he became deputy chief of staff of III Corps under Suchet and then in 1810 he was made a Knight of the Empire and chief of staff of III Corps. In January of 1811 Saint-Cyr-Nugues negotiated the surrender of Tortosa and then in May and June he served at the Siege of Tarragona. The next month he became a Baron of the Empire and then in August he was promoted to général de brigade. In September Saint-Cyr-Nugues became chief of staff of the Army of Aragon and then in December of 1813 he became chief of staff of the Army of Aragon and the Army of Catalonia.
After the Bourbon Restoration of 1814, Saint-Cyr-Nugues was named a Knight of Saint Louis and a Commander of the Legion of Honor. He continued to be employed as a chief of staff and during the Hundred Days of 1815 when Napoleon resumed power Saint-Cyr-Nugues served as chief of staff of the Army of the Alps under Marshal Suchet. Afterwards he was put on non-activity but he resumed a successful military career in 1818.
In 1836 Saint-Cyr-Nugues was tasked with coming up with the initial list of 384 names to be engraved on the Arc de Triomphe.

Bibliography
Related Pages:
Updated September 2021
© Nathan D. Jensen