General Jean-Marie-Mellon-Roger Valhubert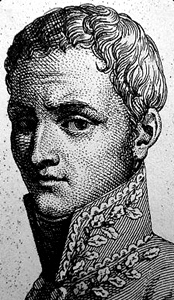 Général de brigade who was killed at Austerlitz
---
Born: October 22, 1764

Place of Birth: Avranches, Manche, France

Died: December 3, 1805

Cause of Death: Mortally wounded

Place of Death: Austerlitz, Austria

Arc de Triomphe: VALHUBERT on the east pillar
Pronunciation:
Like many during the Revolution, Jean-Marie-Mellon-Roger Valhubert first joined the military when he volunteered in October of 1791 and was elected a lieutenant colonel in the 1st Battalion of Volunteers of Manche. Sent to the Army of the North, he took part in the defense of Lille and Anvers. In March of 1793 Valhubert fought at Neerwinden and Pellenberg and then that September he was taken prisoner when Le Quesnoy surrendered to the Austrians. As a prisoner of war, Valhubert was sent to Hungary and remained a prisoner for two years until he was finally exchanged in November of 1795. Once back in France, Valhubert was assigned to the Army of the Interior. In September of 1796 he joined the garrison of Paris and the next year he was promoted to chef de brigade. In 1799 Valhubert was sent to Switzerland and in June he distinguished himself at the combat in the valley of Vispa.
In May of 1800 Valhubert joined the Army of the Reserve, joining Mainoni's brigade in Watrin's division. In this position he crossed the Po on a boat on June 6th, and then two days later he and his men seized a large number of Austrian prisoners. The next day he led his men into action at the Battle of Montebello, and the week after they fought at the Battle of Marengo where he was wounded by a shot.
During the years of peace that followed, Valhubert was acknowledged to be a capable officer. General Friant wrote a note stating that Valhubert was a superior and distinguished officer of rare merit, and in 1803 Valhubert received a saber of honor and a promotion to général de brigade. That year he also went to the camp of Saint-Omer to train with the army and then in 1804 he was named a Commander of the Legion of Honor.
When war was declared in 1805, Valhubert took command of the 2nd Brigade of General Suchet's Division in Marshal Lannes' V Corps. He led his men throughout the campaign and in October he took command of the 3rd Brigade of the same division. In December Valhubert fought at the Battle of Austerlitz. During the battle, his thigh was shattered by the explosion of a shell, and he died the next day.

Bibliography
Related Pages:
External Links:
Updated October 2015
© Nathan D. Jensen