General Jean-Raymond-Charles Bourke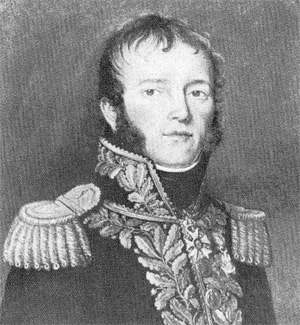 Aide-de-camp to General Leclerc and Marshal Davout
---
Born: August 12, 1772

Place of Birth: Lorient, Morbihan, France

Died: August 29, 1847

Place of Death: Lorient, France

Arc de Triomphe: BOURCKE on the east pillar
Pronunciation:
Descended from an Irish family, Jean-Raymond-Charles Bourke began his military career as a gentleman cadet in the Walsh Infantry Regiment in 1788. Later that year he took part in the expedition to French Indochina and was promoted to sous-lieutenant. In 1791 Bourke left Indochina for Saint-Domingue, and after arriving there he took part in the defense of Genton in August of 1792 where he was wounded by a shot to the chest. A month later he was promoted to lieutenant, and two months after that he received a promotion to capitaine. However, Bourke was soon relieved of command in December and deported along with about sixty officers.
After returning to France, Bourke was cleared of any wrongdoing and placed in the staff of the army at Bordeaux in 1793. The following year he joined the Army of the Coasts of Cherbourg until he was relieved in August. In 1795 Bourke resumed an active command in a battalion in the Army of the West and he served with them throughout 1795 and 1796.
Bourke's next major command came after a promotion to chef de bataillon in August of 1798 when he was appointed to the O'Meara Regiment for the expedition to Ireland. That October he traveled as part of Captain Bompard's squadron on the frigate L'Embuscade and then was captured by the English before ever reaching Ireland. He was released on parole in January of 1799 and once back in France he returned to the Army of the West to serve with the staff.
With the peace that followed in 1801, Bourke was named commander of Lorient and Port-Louis, but during the summer of that year he was appointed to the staff of the expedition to Saint-Domingue. Taking part in that campaign, he served at the action of Port de la Paix and then in early 1802 he became the premiere aide-de-camp of General Leclerc. Next Bourke took command of the advance guard of General Debelle and he launched an attack on the fort of Crête at Pierrot where he was wounded by a bayonet to the stomach. A promotion to chef de brigade followed in July of 1802, and then that October he was wounded again during the defense of the city of Cap. A month later Bourke left Saint-Domingue on the vessel Le Swiftsure to return to France.
Back in France in 1803, Colonel Bourke became an aide-de-camp to Leclerc's brother-in-law General Davout. When war broke out in 1805, he became Davout's premiere aide-de-camp and served on the campaign that year and at the culmination of the campaign at Austerlitz. When Prussia declared war the following year, Bourke still served as Davout's aide-de-camp and in that capacity he seized Naumbourg. Two days later he served at the hard fought Battle of Auerstadt with Davout where he was wounded by a ball to the chest. Bourke continued to serve with Davout, fighting at Eylau in February of 1807. In 1808 he was recognized for his contributions, being named a Baron of the Empire.
In 1809 Austria invaded France's ally Bavaria and Bourke continued to serve by Davout's side. That April he served at Thann, Schierling, and Ratisbon and then in July he fought at Wagram . A few weeks later Bourke received a promotion to général de brigade and for the rest of the year he served in Belgium and Holland.
In 1810 General Bourke was sent to Spain where he assumed a command under General Reille. He fought against Spanish General Mina while there and beat Mina at Lumbier. In 1811 Bourke took command of the 2nd Brigade of Reille's division and then later he was sent to the Army of Aragon to serve under Marshal Suchet. That December he served at the combat of Torrente and the siege of Valencia and afterwards he was appointed governor of Lérida and served in upper Catalonia. In March of 1812 Bourke fought at the combat of Roda where he was wounded by a shot to the head and a ball to the knee.
In 1813 General Bourke was recalled to France to serve during the campaign in Germany that year. After serving throughout the campaign, in November he was promoted to général de division and named governor of Wesel. Even though the Allies laid siege to Wesel, Bourke refused to hand over the city, even after Napoleon's abdication in 1814. When Louis XVIII assumed power in France, he supported Bourke and refused to turn over the citadel to the Allies. In 1815 when Napoleon returned from exile and resumed power for the Hundred Days, he placed General Bourke in charge of Givet-Charlemont. Bourke defended Givet-Charlemont when it was besieged by the Allies, and afterwards the restored Bourbons put him on non-activity.

Bibliography
Updated December 2014
© Nathan D. Jensen