Colonel Thomas Robert Bugeaud de la Piconnerie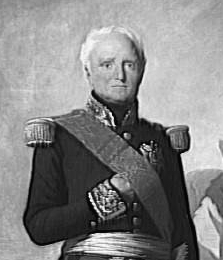 Colonel of the 14th of the Line during the Hundred Days
---
Born: October 15, 1784

Place of Birth: Limoges, Haute-Vienne, France

Died: June 10, 1849

Place of Death: Paris, France


Pronunciation:
Coming from the minor nobility, Thomas Robert Bugeaud de la Piconnerie entered the military service in 1804 as a velite in the Grenadiers à Pied of the Imperial Guard. Sent to the camp of Boulogne, he served in the Grande Armée in 1805. The next year Bugeaud was promoted to sous-lieutenant and he joined the 64th Ligne to take part in the campaign against Prussia. That December he was promoted to lieutenant and he fought at Pultusk where he was wounded by a shot to the left hamstring.
In 1808 Lieutenant Bugeaud joined the 116th Ligne and he was then sent to Spain. As part of General Dupont's II Corps, Bugeaud was almost caught at the surrender of Baylen but he managed to escape instead. In 1809 he was promoted to capitaine, and in 1810 he fought at Lérida, Tivisia, and Tortosa. The next year Bugeaud was promoted to chef de bataillon in the same regiment. Two years later in 1813 he served in the Army of Aragon and in early 1814 he was appointed major of the 14th Ligne.
After Napoleon's abdication in 1814, Bugeaud was promoted to colonel of the 14th Ligne by the restored Bourbons, having risen to the rank with only 10 years of service. When Napoleon returned from exile in 1815 for the Hundred Days, he replaced Bugeaud as colonel of the 14th Ligne, stating that Bugeaud had received his command from the former government and only by favor. However, Marshal Suchet, General Gérard, General Bertrand, and General Grouchy came to Bugeaud's defense and convinced Napoleon to reinstate Bugeaud's command. Napoleon reappointed Bugeaud colonel of the 14th Ligne again and named him a Commander of the Legion of Honor.
Now back in service, Colonel Bugeaud served in the Army of the Alps during June of 1815. After distinguishing himself at Conflans, he fought at Moutiers and then at l'Hôpital where with only 1800 men he repulsed 10,000 Austrians and took more than 900 prisoners. After Napoleon's second abdication, the restored Bourbons put Bugeaud on non-activity and he devoted himself to agriculture on his property in Périgord. When Louis-Philippe took power in 1830, Bugeaud was reinstated in the military and promoted to general. After service in Algeria, he was appointed a Marshal of France in 1843.

Bibliography
Updated August 2016
© Nathan D. Jensen