General François Joseph Fidèle Gressot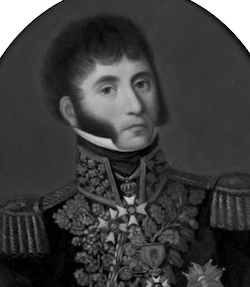 Aide-de-camp to Schérer who became a staff officer and frequently served as chief of staff to Reynier's Saxon VII Corps
---
Born: September 7, 1770

Place of Birth: Délémont, Switzerland

Died: November 14, 1848

Place of Death: Saint-Germain-en-Laye, France

Arc de Triomphe: GRESSOT on the west pillar
The son of a captain in the Swiss regiment of Eptingen, François Joseph Fidèle Gressot became a cadet in another Swiss regiment in the service of France at age 7 in 1777. Commissioned as a sous-lieutenant in February of 1788, in 1792 he was promoted to lieutenant and he served with the Army of the North. That September his regiment was dismissed and Gressot joined the 33rd of the Line. In 1795 Gressot transferred to the Army of Italy where he served at Rocca-Barbena, was made an aide-de-camp of General Schérer, and was promoted to capitaine in the 16th Light. Years later in 1799 was promoted to chef de bataillon and still serving as an aide-de-camp to Schérer. In 1800 Gressot began serving in the 20th military division.
In 1804 Gressot joined the staff of the camp of Brest and then in 1805 he served with the unit that would become VII Corps. He served with VII Corps on campaign and in February of 1807 he fought at the Battle of Eylau. Next Gressot was employed with the general staff and in 1808 he was sent to Spain. He returned to France later that year and then in 1809 he served in Germany, eventually becoming chief of staff of the Saxon corps commanded by Reynier. Also that year Gressot was named a Baron of the Empire and in November he joined Marshal Berthier's staff. In 1810 he conducted a convoy to Spain and then in 1811 he served in Bailly de Monthion's staff at Bayonne. That December Gressot married Bailly de Monthion's sister-in-law.
In 1812 Gressot was named chief of staff of Reynier's Saxon VII Corps for the campaign against Russia. He served throughout the campaign and in December he was rewarded with a promotion to général de brigade. For the campaign in Saxony of 1813, Gressot remained as chief of staff to Reynier's corps and he avoided being captured when the Saxons turned against the French at the Battle of Leipzig . For the defense of France of 1814, Gressot briefly commanded headquarters before serving in Champagne as chief of staff of Marshal Oudinot's VII Corps.
Gressot continued to serve as a staff officer after the Bourbon Restoration and in August of 1814 he was named a Commander of the Legion of Honor. When Napoleon returned from exile in 1815, Gressot was named deputy chief of staff of the headquarters of the army. In this position he served at the Battle of Waterloo. Afterwards, he was put on non-activity but he resumed his career in 1818. In 1830 Gressot commanded the guards who escorted Charles X to Cherbourg on his way to exile. Gressot finally retired from the army in 1833.

Bibliography
Related Pages:
Updated November 2020
© Nathan D. Jensen