General François Nivard Charles Joseph d'Hénin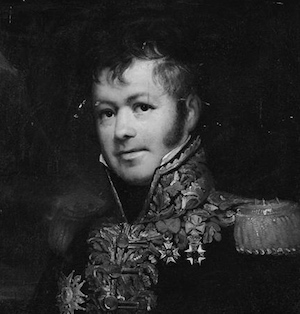 Aide-de-camp of General Macdonald who served in Saint-Domingue and commanded an infantry brigade in 1812 and 1813
---
Born: August 21, 1771

Place of Birth: Lille, Nord, France

Died: November 21, 1847

Place of Death: Paris, France

Arc de Triomphe: D'HÉNIN on the west pillar
Pronunciation:
The son of a merchant, François Nivard Charles Joseph d'Hénin entered the National Guard of Lille in July of 1789. Two years later he was commissioned as a sous-lieutenant in the 87th Infantry and then in 1792 he was promoted to lieutenant. That year Hénin also went to Saint-Domingue where he remained until 1794, and in the meantime he was promoted to capitaine in 1793. Back in France, in 1795 he joined the Army of the Coasts of Cherbourg. In March of 1796 Hénin was authorized to follow General Aubert-Dubayet to Constantinople where Aubert-Dubayet was serving as ambassador to the Ottoman Empire. Hénin returned to France and joined the 2nd Chasseurs à Cheval in June of 1797 and in 1798 he served with the Army of Italy. That November he became an aide-de-camp to General Macdonald. In March of 1799 Hénin rescued the flag sent to the Army of Naples by the Directory from an attack by brigands near Naples. In June he served at the Battle of the Trebbia where he distinguished himself and on the last day of that battle General Macdonald promoted him to chef d'escadrons. In 1800 Hénin first served with the staff of the 17th military division and then later with the staff of the Army of the Reserve before returning to Macdonald's side as an aide-de-camp.
In 1801 Hénin was promoted to chef de brigade and he was sent to Saint-Domingue where he had served before. In 1802 he served in Boudet's division and he was wounded at the attack of the camp Vallière. That October General Leclerc promoted Hénin to général de brigade and Hénin was wounded by a shot to the right side at Haut Cap. Hénin next served with Clauzel's division in December and then in 1803 he took command of the city of Saint-Marc. Besieged by the British, Hénin was forced to surrender in September of 1803 and he was taken as a prisoner of war to England.
In March of 1811 Hénin was allowed to return to France on parole and he was put at the disposition of the department of war. In 1812 he took command of the 2nd Brigade of Razout's 11th Infantry Division and he led this brigade into action on the campaign in Russia. Hénin fought at the Battle of Borodino in September where he was wounded by two shots, one to the right thigh and the other to the wrist. In October he was named a Baron of the Empire. In 1813 Hénin initially took command of a brigade of Lorencez's infantry division. In June he began serving with the 35th Division in XI Corps and then in August he took command of a brigade of Westphalians in Ledru's 31st Division. Hénin served at the Battle of Leipzig and was taken prisoner there.
Released in March of 1814, after Napoleon's abdication and the Bourbon Restoration Hénin was placed in charge of repatriation of French prisoners held by Prussia. In June he was named a Knight of Saint Louis and in January of 1815 he was promoted to lieutenant general. During the Hundred Days Hénin commanded the département of Loir-et-Cher. He was put on non-activity in 1816 but he resumed his military career in 1823.

Bibliography
Related Pages:
Updated October 2020
© Nathan D. Jensen