General Jean-Pierre-Firmin Malher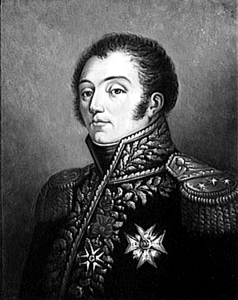 Général de division who was killed in a training accident at Valladolid
---
Born: June 29, 1761

Place of Birth: Paris, Paris, France

Died: March 13, 1808

Cause of Death: Accident

Place of Death: Valladolid, Spain

Arc de Triomphe: MALHER on the north pillar
Pronunciation:
Jean-Pierre-Firmin Malher first enlisted in the army in 1777, and then two years later he served on the ship La Couronne. After the Revolution began, in October of 1789 Malher joined the National Guard of Paris. In 1792 he joined the 14th Battalion of Light Infantry, served with them in the Army of the North, and was commissioned as a sous-lieutenant. The next year he was promoted to lieutenant and became an aide-de-camp to General Queyssat. Malher continued to serve with the Army of the North and in 1794 he was promoted to chef de brigade and became the chief of staff to General Bonnaud's division.
Malher's next major command came in September of 1799 when he became Vandamme's chief of staff in the Army of Holland. The next month he served at Castricum , was promoted to général de brigade, and joined Boudet's division. In 1800 General Malher joined the Army of the Reserve in Watrin's division, and that May he seized Aoste and fought at Montestrutto, Ivrée, and Chiusella. In June he fought at Montebello and then was wounded at Marengo. That November Malher returned to Paris.
During the years of peace that followed , Malher was employed in the 24th military division and he received a promotion to général de division in 1803. In 1804 he went to the camp of Montreuil and took command of the 3rd Infantry Division that would become part of Marshal Ney's VI Corps the next year. Malher led his division throughout the campaign of 1805 and fought at Gunzbourg in October. On Christmas Day of 1805, Malher was made a Grand Officer of the Legion of Honor.
The next year, a few weeks into the campaign in Prussia, General Malher was replaced in his command by General Vandamme. In 1807 Malher was employed in the interior and then given command of the 13th military division at Rennes. That November he took command of the 3rd Division of Dupont's II Corps. Traveling with the army into Spain, Malher and his men were at Valladolid in March of 1808. Malher was participating in a training exercise when a soldier fired his gun but had left his ramrod in the barrel. The ramrod flew out of control and through Malher's skull, killing him.

Bibliography
Updated February 2014
© Nathan D. Jensen