General Charles-Tristan de Montholon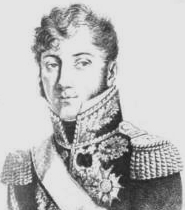 Dubious aide-de-camp to Napoleon who accompanied him into exile to St. Helena
---
Born: July 21, 1783

Place of Birth: Paris, Paris, France

Died: August 20, 1853

Place of Death: Paris, France


Pronunciation:
Descended from a family of magistrates and the son of a colonel of dragoons, Charles-Tristan de Montholon's military career is somewhat shrouded in controversy. Considered by some to be a liar or con artist, it is difficult to determine what is exaggerated, false, or true about Montholon's career. Montholon allegedly began his military career at a young age with the navy and participated in Admiral Truguet's expedition against Sardinia in 1792. Various sources state that during the latter part of the Revolutionary Wars he joined the cavalry in 1797 and was a cadet at Brienne in 1798. In the following years he served as a staff officer and as an aide-de-camp to a variety of generals.
By 1809 Montholon had made his way to Marshal Berthier's staff. Now holding the rank of chef d'escadrons, he took part in the Danube campaign against Austria. After the successful conclusion of that campaign at the Battle of Wagram , Montholon was named a chamberlain to the Emperor Napoleon and in the meantime he received a promotion to colonel. In 1811 he was entrusted as ambassador to the Archduke Ferdinand of Wurzburg. The following year, while Napoleon was preoccupied in Russia, Montholon married his mistress Albine de Montholon, despite being denied permission to do so by Napoleon. Napoleon fired him from his position when he learned of Montholon's transgression and duplicity. Montholon was finally given a command again in 1814 when he was appointed commander of the département of Loire, but even then he was accused of embezzling military funds for his own personal use.
After Napoleon's abdication in 1814, the restored Bourbons promoted Montholon to général de brigade. When Napoleon escaped from exile in 1815 and resumed power, Montholon rallied to him and was named an aide-de-camp to Napoleon. After the loss of the Battle of Waterloo, Montholon and his wife accompanied Napoleon in exile to St. Helena. Despite a number of difficulties with the others on the island, Montholon remained on the island until Napoleon's death in 1821. In fact, Montholon took Napoleon's dictation of his will shortly before his death with no others present. After Napoleon's death, Montholon and General Bertrand were named executors to the will, and the will gave Montholon two million francs, significantly more than any others received. Montholon has since become a key figure in the theory that Napoleon was poisoned on the order of the Count of Artois to ensure that Napoleon could not escape from exile again.
Montholon returned to France and along with General Gourgaud published memoirs of Napoleon that brought him even more income. However, Montholon invested in a number of questionable ventures and spent his money lavishly, to the point that in 1828 he fled France for Belgium to escape his creditors. When Louis-Philippe took power in 1830, Montholon returned to France and was shown leniency. Ten years later he encouraged and supported Louis-Napoleon Bonaparte, the future Napoleon III, in a failed uprising at Boulogne. Both men were captured and imprisoned in the fortress of Ham, making Montholon the only man to share in the captivity of both French emperors. Louis-Napoleon Bonaparte later escaped in disguise from the chateau and Montholon claimed to have no knowledge of the escape plan or attempt. Afterwards Montholon was determined to not be a threat and released. In 1849 he was elected to the Legislative Assembly and in 1851 he once again supported Louis-Napoleon on his ascension to power.

Bibliography
External Links:
Updated August 2016
© Nathan D. Jensen