General François Amable Ruffin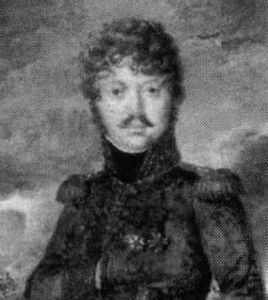 Général de division who was mortally wounded at Chiclana
---
Born: August 31, 1771

Place of Birth: Bolbec, Seine-Maritime, France

Died: May 15, 1811

Cause of Death: Mortally wounded

Place of Death: Portsmouth, Great Britain

Arc de Triomphe: RUFFIN on the west pillar
Like many others during the French Revolution, François Amable Ruffin was a volunteer, joining the 7th Battalion of Volunteers of Seine-Inférieure in September of 1792. Elected a capitaine, he was almost immediately appointed a lieutenant colonel of the battalion and then sent to the Army of the North. The following year, Ruffin joined the staff of General Ernouf and then he served at Hondschoote , and afterwards he became an aide-de-camp to General Jourdan. In early 1794 Ruffin was named a chef de bataillon in the staff and then later that year he served with the Army of the Sambre and Meuse. The next year he became an aide-de-camp to Jourdan again, and then in early 1797 he was authorized to return home. Ruffin returned to the army in 1798 and became Jourdan's aide again. In 1799 he became an aide-de-camp to General Ney and then he was promoted to chef de brigade and sent to the Army of the Rhine. While with the Army of the Rhine Ruffin became Ney's chief of staff, and in 1800 he fought at Engen, Ampfing, and Hohenlinden.
During the peaceful years that followed, Ruffin served as chief of staff of the 15th military division until 1803 when he went to the camp of Saint-Omer. In February of 1805 he was promoted to général de brigade and placed with the grenadiers of the reserve. When the Grande Armée marched out in August Ruffin took command of the 3rd Brigade of Oudinot's grenadier division, and he served at Austerlitz in December. After Austerlitz, Ruffin became a Commander of the Legion of Honor on Christmas Day.
In 1806 Ruffin remained under Oudinot but then he bounced between a few different commands. He continued to serve in combat, taking part in the Siege of Glogau and then fighting at Strehlen and Ostrolenka in 1807. Ruffin was named a Knight of the Order of Saint Henry of Saxony and then in May he took command of the 1st Brigade of Oudinot's grenadier division in the Reserve Corps. Leading his men into battle, Ruffin fought at the Battle of Friedland. A few months later he received a promotion to général de division.
General Ruffin was next given command of the 1st Division of Marshal Victor's I Corps and sent to Spain. In 1808 he was appointed a Count of the Empire and he served at Somosierra . The following year Ruffin fought at Uclès, Medellin , and Talavera . Continuing to serve in Spain, in March of 1811 Ruffin was fighting at Chiclana when he was hit by grapeshot and taken prisoner. He was put on the ship HMS Gorgon for transport to England as a prisoner of war, but he died from his wounds en route and was buried at Portsmouth.

Bibliography
External Links:
Updated February 2022
© Nathan D. Jensen