General Jean Sarrazin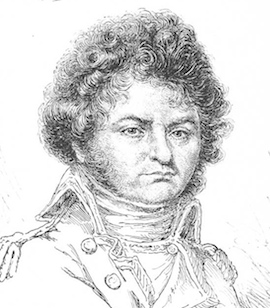 Close friend and chief of staff to Marshal Bernadotte who defected to the English
---
Born: August 15, 1770

Place of Birth: Saint-Sylvestre, Lot-et-Garonne, France

Died: November 11, 1848

Place of Death: Brussels, Belgium


Pronunciation:
A close friend of Marshal Bernadotte, Jean Sarrazin was known for intriguing notoriously much like his friend to advance his career, though given their differing outcomes he was considerably less adept at it than Bernadotte. Jean Sarrazin first joined the army when he enlisted in the dragoons in 1786 at age sixteen. After the arrival of the Revolution, in 1792 he joined the free company of Saint-Maurice as a lieutenant and served in the Army of the North. The next year Sarrazin was promoted to capitaine and he served in the Army of the Moselle and the Army of the West, and then in 1794 he served with the Army of the Ardennes. That year he fought at Fleurus in June and then later he served at Coblentz before he received a promotion to chef de bataillon. Sarrazin went on to serve under Kléber at the siege of Maestricht and then he was promoted to chef de brigade in June of 1795.
In July of 1796 Sarrazin was appointed chief of staff to General Bernadotte, beginning a close friendship that would last for years. At the end of the year he followed Bernadotte to the Army of Italy, and then in 1797 he served as governor of Udine. In 1798 Sarrazin joined the Army of England and that August he took part in the expedition to Ireland, serving under General Humbert. After disembarking at Ireland and seizing Killala, Sarrazin was promoted to général de brigade by Humbert the next day. Continuing the fight, Sarrazin served at Balayna and Castlebar later in the week and he was then promoted to général de division by Humbert, having been a brigadier general for less than a week. Unfortunately, the expedition was a failure, and Sarrazin was taken prisoner at Ballinamuck when the outnumbered French surrendered. However, he was quickly exchanged and returned to France, though his promotions received from General Humbert were disregarded.
Sarrazin was next sent to the Army of Naples and he served in Italy throughout 1799. That April he commanded the advance guard of Olivier's division and he occupied Brindisi before evacuating it and then winning at Castellamare. In June Sarrazin served on the Trebbia, and then in October the Directory confirmed his promotion to général de brigade and appointed him commander at Angers.
After Napoleon assumed power, Sarrazin served in the Army of the West and then briefly in the Army of Italy. Napoleon confirmed Sarrazin's rank of général de brigade, backdating it to October of 1798 after he had returned from the expedition to Ireland. At the end of 1801 Sarrazin was assigned to the expedition to Saint-Domingue, and he served there until August of 1803 when he abandoned Port-au-Prince and took refuge in Cuba. After returning to France, he served in the war department briefly before being sent to the camp of Brest to serve in what would later be known as VII Corps. While there, he fomented dissent by arguing with everyone and accusing others of being traitors, but Marshal Augereau intervened and kept him in line.1
When war broke out in 1805, Sarrazin took command of the 2nd Brigade of Maurice Mathieu's division in VII Corps. He served in VII Corps on campaign that year and then in 1806 he was employed in the 24th military division as commander of the département of Escaut in Belgium. The next year Sarrazin was sent to the 16th military division as commander of the département of Lys, but while there he got in trouble, being denounced for harassing the population and fighting with General Chambarlhac. To alleviate tension, in 1808 Sarrazin was sent to the isle of Cadzand off Holland and then in 1809 he was sent to the camp of Boulogne to serve under General Vandamme. However, in 1810 he defected to the English by leaving Boulogne on a fishing boat. Granted asylum by the English, he was nevertheless tried in absentia by the French and condemned to death.
After Napoleon's abdication in April of 1814, Sarrazin returned to France. The restored Bourbons recognized him with the rank of maréchal de camp and pardoned his defection to the English but they also put him on non-activity. When Napoleon resumed power in 1815 for the Hundred Days, he immediately had Sarrazin imprisoned in l'Abbaye for the duration of the Hundred Days. After the Bourbons returned to power, Sarrazin was released but put under surveillance by the police, and in 1817 he was stripped of his rank and discharged from the army. In 1819 he was tried and convicted of bigamy, being sentenced to ten years of forced labor. Instead of serving ten years, Sarrazin served only three, for in 1822 he was pardoned and released. Afterwards he traveled to different locations before eventually residing in Brussels.
Notes
Bibliography
Related Pages:
External Links:
Updated January 2017
© Nathan D. Jensen