General Jérôme Soulès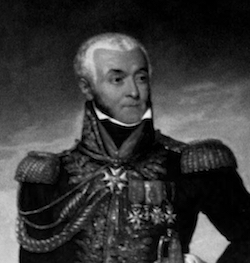 Commander of the Chasseurs à Pied of the Imperial Guard who later became a Senator
---
Born: August 24, 1760

Place of Birth: Lectoure, Gers, France

Died: October 3, 1833

Place of Death: Paris, France

Arc de Triomphe: SOULÈS on the south pillar
Pronunciation:
A career infantry soldier, Jérôme Soulès first enlisted in the regiment of Hainaut at age fifteen in 1776. Promoted to sergeant in 1782, he stayed with the army until 1790 when he obtained a leave and then joined the National Gendarmerie. In 1793 Soulès was sent to the Army of the Eastern Pyrenees where he was promoted to capitaine in October and then lieutenant colonel of the 2nd Battalion of Volunteers of Gers at the end of the year.
Soulès served with a variety of infantry units for the next few years and in 1796 he and his men joined the Army of Italy. That May he joined the 51st Ligne and served at Borghetto as part of Augereau's division. A few months later Soulès fought at Castiglione where he was wounded by a shot to the right shoulder, and then that November he fought at Arcola where he was hit by a shot to the left wrist. In 1798 Soulès served in Belgium where he took part in defeating insurgents.
After Napoleon's rise to power as First Consul, Soulès was appointed a chef de battalion in the Grenadiers à Pied of the Consular Guard in January of 1800. That June he fought at the Battle of Marengo where he distinguished himself and then the next year he received a saber of honor for his performance at Marengo. In 1801 Soulès was promoted to chef de brigade in the Chasseurs à Pied of the Consular Guard and then two years later he was sent to the Camp of Boulogne. 1804 saw Soulès being named a Commander of the Legion of Honor and promoted to général de brigade and given command of the Chasseurs à Pied of the Imperial Guard.
When war broke out in 1805, General Soulès served on the campaign in Austria with the Imperial Guard. After Prussia and Russia moved against France in 1806, he took part in the campaigns of 1806 and 1807 and served at the battles of Jena, Eylau, and Friedland. A few months after Friedland Soulès became a Senator and the next year he retired from the military and was named a Knight of the Order of Military Merit of Bavaria.
Soulés returned to the military briefly in August of 1809 when he took command of a division of the National Guard and served in Belgium until April of 1810. Afterwards he returned to the senate. After Napoleon's abdication in 1814, Soulès supported the Bourbons and was rewarded as a Peer of France and Knight of Saint Louis. When Napoleon returned from exile in 1815 for the Hundred Days, Soulès did not take part in the events. Afterwards he participated in the trial of Marshal Ney where he voted for death.

Bibliography
Updated January 2015
© Nathan D. Jensen