General Anne-François-Charles Trelliard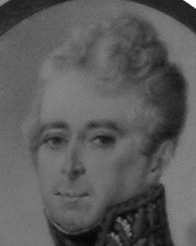 Cavalry general who served with V Corps in 1805 and 1806 and later served in Spain
---
Born: February 9, 1764

Place of Birth: Parma, Italy

Died: May 14, 1832

Place of Death: Paris, France

Arc de Triomphe: TREILLARD on the east pillar
Pronunciation:
Born into a noble family, Anne-François-Charles Trelliard began his military career as a gentleman cadet at age sixteen in 1780. The following year he was commissioned as a sous-lieutenant in the Dragoons of the Queen. Seven years later Trelliard was promoted to lieutenant in 1788, his last promotion before the Revolution. After the Revolution was well underway, in 1792 Trelliard was assigned to the 3rd Chasseurs à Cheval and then promoted to capitaine. Serving with the Army of the North, in April of 1793 he received a promotion to lieutenant colonel in the 11th Chasseurs à Cheval. When the revolutionary armies were reorganized in 1794, Trelliard served with the Army of the Sambre and Meuse and fought at the Battle of Fleurus . That September he was promoted to chef de brigade of the 11th Chasseurs à Cheval and then the next month he served at Coblentz. In 1797 Trelliard served with armies in Germany, serving under General Grenier and at Neuwied. In 1799 he joined the Army of Switzerland and received a promotion to général de brigade. The following year he served in Holland and in December he commanded the cavalry reserve at the combats of Burg Eberach and Nuremberg.
General Trelliard returned home on leave in 1801 and the next year he was employed in the 15th military division as commander of the département of Seine-Inférieure. In 1804 he became a Commander of the Legion of Honor and then in 1805 he was given command of a light cavalry brigade under Bourcier. When war broke out that year, Trelliard's cavalry brigade was assigned to Marshal Lannes' V Corps. During the campaign that fall, Trelliard served at Wertingen and Ulm before fighting at the Battle of Austerlitz. Trelliard and his brigade remained with V Corps in 1806 for the campaign against Prussia. That October he led his men into action at Saalfeld and then the Battle of Jena. In December he fought at Pultusk and was wounded, but a promotion to général de division followed only a few days later. Afterwards, he was authorized to return to France to recover and in January he was ordered to inspect the cavalry depots at Mainz.
In 1808 Trelliard was named commander of cavalry depots at Bayonne and then put at the disposition of the chief of staff of the Army of Spain. He was given command of the province of Vitoria where he remained until May of 1809 when he was recalled to serve in Germany and Austria. After peace was established between France and Austria, Trelliard commanded a cavalry depot at Mautern. General Trelliard was sent back to Spain in March of 1810 and the following month he took command of the 4th Dragoon Division under General Montbrun in the Army of Portugal. That summer he served on campaign and seized the fort of Concepcion. In 1811 Trelliard was assigned to the Army of the Center and in January of 1812 he defeated Spanish General Morillo near Almagro. In May of 1812 Trelliard took command of the cavalry of the Army of the Center and then in August he won at Majahonda. The next year he fought at the Battle of Vitoria and afterwards he took command of a division of cavalry in the Army of the Pyrenees.
For the defense of France of 1814, Trelliard was called with his division to serve in Champagne. He rejoined with Napoleon's forces at Guignes in February and the following day he and his men saw action at Mormant. Next Trelliard was given command of a dragoon division in General Kellermann's VI Cavalry Corps. That March he was driven out of Sézanne, fought at Horicourt, and then fought at Saint-Dizier. After Napoleon's abdication, Trelliard was appointed governor of Belle-Île-en-Mer by the restored Bourbons. When Napoleon resumed power in 1815 for the Hundred Days, he retained Trelliard in this position. Trelliard retired from the military in October of 1815.

Bibliography
Related Pages:
External Links:
Updated November 2016
© Nathan D. Jensen