General Joseph Barbanègre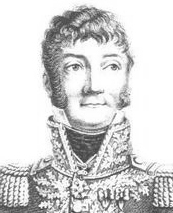 General who with only 135 men resisted the Austrian forces besieging Huningue in 1815
---
Born: August 22, 1772

Place of Birth: Pontacq, Pyrénées-Atlantiques, France

Died: November 7, 1830

Place of Death: Paris, France

Arc de Triomphe: BARBANEGRE on the east pillar
Pronunciation:
Originally a sailor, Joseph Barbanègre decided to volunteer for the army in January of 1794 and he became a capitaine of the 5th Battalion of Volunteers of Basses-Pyrenees. Serving with the Army of the Eastern Pyrenees, he saw action and in November of 1794 he was wounded by a shot to the chin. Barbanègre remained a capitaine throughout the Wars of the Revolution, and in 1800 he served with the Army of the Rhine. That July he joined the Chasseurs à Pied of the Consular Guard.
During the years of peace that followed, Barbanègre served with the Army of the Coasts of the Ocean from 1803 to 1805 and in 1804 he received a promotion to chef de bataillon. After war was declared in 1805, Barbanègre was promoted to colonel of the 48th of the Line which served in Friant's division of Marshal Davout's III Corps. He participated in the campaign that fall and fought at its conclusion at the Battle of Austerlitz. Afterwards Barbanègre was named a Commander of the Legion of Honor. In 1806 he continued to command the 48th of the Line and when Prussia declared war that October, he took part in the campaign. Barbanègre took part in the hard fought Battle of Auerstadt in October and he and his men went on to fight at Nasielsk in December and then the Battle of Eylau in February of 1807.
1808 saw Colonel Barbanègre named a Baron of the Empire and he joined the Army of Germany. In March of 1809 he was promoted to général de brigade and given command of the 1st Brigade of Morand's division. When Austria attacked that April, Barbanègre took command of the 2nd Brigade of Friant's division and he led his men into battle at Tengen, Eckmühl, and Ratisbon. That July he fought at the Battle of Wagram , and then in 1810 he was named commander at Cuxhaven.
In 1811 General Barbanègre took command of the 1st Brigade of Dessaix's division. As France prepared for war with Russia in 1812, his brigade became part of Marshal Davout's I Corps for the campaign in Russia. During the campaign, in September Barbanègre was named commander of Smolensk. During the retreat from Russia, he joined Ricard's division in November and went on to distinguish himself at Krasnoe where he was also wounded in the left foot and right thigh at Krasnoe. In January of 1813 Barbanègre was placed in charge of Stettin, which he defended and held until being forced to surrender in December. After his surrender, he was taken as a prisoner of war and only released in July of 1814 to return to France.
Back in France, General Barbanègre was rewarded as a Knight of Saint Louis but then put on non-activity. When Napoleon returned for the Hundred Days of 1815, he placed Barbanègre as commander of Huningue. After the French loss at the Battle of Waterloo and Napoleon's subsequent second abdication, Huningue began to be plundered. Barbanègre responded by ordering his 135 men to fire on the pillagers. Before long the Austrian army arrived, and Barbanègre informed his men that he had no intention of surrendering to the Austrians. Despite Austrian threats, he continued to refuse to surrender Huningue. As the situation escalated, by August 14th, 1815 there were 25,000 Austrian soldiers laying siege to Barbanègre and his small force. Barbanègre finally surrendered Huningue on August 26th, but he and his men marched out of the city with full military honors. On their way out, Barbanègre was embraced by the Austrian commander Archduke John.1
Notes
Bibliography
Related Pages:
External Links:
Updated October 2015
© Nathan D. Jensen