General Etienne-Pierre-Sylvestre Ricard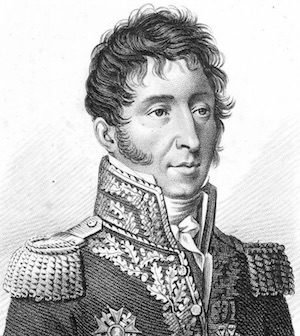 Aide-de-camp to Marshals Soult and Suchet and notable division commander
---
Born: December 31, 1771

Place of Birth: Castres, Tarn, France

Died: November 6, 1843

Place of Death: Recoules, France

Arc de Triomphe: RICARD on the south pillar
Etienne-Pierre-Sylvestre Ricard's military service began about the time of the Revolution. In 1791 he was promoted to sous-lieutenant in the infantry regiment of La Fère, and the following year he was promoted to lieutenant and then capitaine. Sent to Corsica, Ricard would remain there a number of years.
In February of 1799 Captain Ricard was sent to the Army of Italy where he became an aide-de-camp to Suchet. That July he was promoted to chef d'escadrons and given a position with the 4th Chasseurs à Cheval, but he also remained as an aide-de-camp to Suchet. In December Ricard was promoted to chef de brigade, and a year later he fought at Pozzolo. During the years of peace that followed, Ricard was employed in the 12th military division until being sent to the camp of Bruges and then camp of Saint-Omer in 1803.
When war broke out in 1805, Ricard became Marshal Soult's premier aide-de-camp. He served throughout the campaign that year and remained as Soult's aide. For the campaign against Prussia of 1806, Ricard served at Jena where he distinguished himself. A month later, he was promoted to général de brigade and then employed in Morand's division.
In 1808 Ricard was created a Baron of the Empire and then chief of staff to Marshal Soult in the II Corps of the Army of Spain. He served in Portugal in 1809 but was recalled to France later that year due to political intrigues against him. Once back in France, Ricard retired to Villefranche-de-Rouergue. In 1811 Soult requested that he return to duty and sent him to the siege of Tarragona.
Ricard was designated to participate in the campaign against Russia of 1812, and he was given command of a brigade of Grandjean's 7th Division. He and his men occupied Dunabourg that August and then in September he was promoted to général de division. That November Ricard took command of what was left of the 2nd Division of I Corps and continued to fight, being wounded at Krasnoe.
In 1813 General Ricard was given command of the 11th Division of Marshal Ney's III Corps in March. He led his men into battle that May, fighting at Weissenfels and Lützen. That August Ricard fought at Hainau and Katzbach, and then in October he fought at Wachau and Leipzig where he took command of III Corps after General Souham was wounded. The next month he was named commander of a division of VI Corps under Marshal Marmont.
For the defense of France of 1814, Ricard continued to command a division under Marshal Marmont. That February he saw plenty of action, fighting at La Rothière, Champaubert , Montmirail , and Vauchamps before fighting in March at Reims, Fismes, Fére-Champenoise, and Paris. Trying to defend Paris, he was wounded again.
After Napoleon's abdication, the returning Bourbons named Ricard commander of the 10th military division at Toulouse and a Knight of Saint Louis. The next year Ricard was sent to Vienna to convince the Austrian court that the French army was loyal to Louis XVIII, but Napoleon's retaking of power for the Hundred Days presumably undermined this mission. Ricard did not rally to Napoleon, instead following the king in exile to Ghent until after the Hundred Days and Napoleon's second abdication.

Bibliography
Updated May 2014
© Nathan D. Jensen