General Charles-Antoine-Louis-Alexis Morand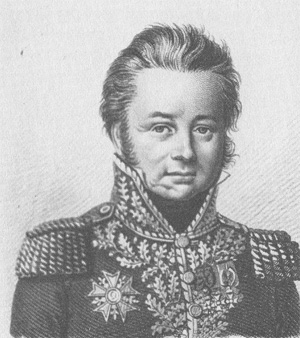 Général de division who frequently served under Marshal Davout
---
Born: June 4, 1771

Place of Birth: Pontarlier, Doubs, France

Died: September 2, 1835

Place of Death: Paris, France

Arc de Triomphe: MORAND on the east pillar
Charles Morand originally studied to become a lawyer, fulfilling that goal in 1791. By the next year though, he had volunteered with the 7th Battalion of Volunteers of Doubs and was made a captain. Within a month of joining the army, he was raised to the rank of lieutenant colonel for his battalion.
In 1793, Morand was serving with the Army of the North when he got his first taste of action, distinguishing himself at Hondschoote on the 8th of September. The next month he took part in the Battle of Wattignies . For the next few years, Morand served with the Army of the Sambre and Meuse, distinguishing himself at the battles of L'Ourthe and Aldenhoven in 1794. In 1795 he fought at Kreutznach and then in 1796 at Koenigstien and Teining. In early 1797 Morand transferred to the Army of Italy with Bernadotte's division.
Morand joined the Army of the Orient, sailing to Egypt and taking part in the campaigns there in Desaix's division. He fought at the Battle of the Pyramids in July of 1798, and was promoted on the battlefield to chef de brigade. During his time in Egypt, he fought at the Battle of Sédiman, Girgeh, El Ganaim, and Samanhoud. In August of 1800 he was made governor of the province of Girgeh, and then the next month promoted to général de brigade. In May of 1801 he joined Verdier's division, and then in June he signed the surrender of Cairo with General Belliard, and within a few months left Egypt to return to France.
Back in France, General Morand commanded the departement of Morbihan until mid 1803 when he joined the camp of Saint-Omer. In 1805, with war breaking out, he took command of the 1st Brigade of St. Hilaire's division of IV Corps, and led them into action at Austerlitz, where he was wounded by a shot. In recognition of his contributions, he was promoted to général de division before the end of the month.
February of 1806 saw Morand given command of the 1st Division of Marshal Davout's III Corps, a position he would command for the next seven years. During the campaign against Prussia in 1806, he led his men into battle at Auerstadt, where he was wounded by a canister shot to the arm. Continuing to campaign, he fought at Custrin, Bug, Tsarnowo, and Golymin before being wounded again at Eylau.
1808 saw Morand rewarded as a Count of the Empire. For the Danube campaign of 1809, Morand continued to command his division, fighting at Arnhofen, Abensberg, Landshut, Eckmühl, Ratisbon, and then being wounded at Wagram . In 1810 Morand had a falling out with Marshal Davout, in part due to his belief that Davout had blocked his advancement. It culminated in a request to be transferred to a different command and a threat to retire, but this request was not granted and he did not retire.1 Despite the personality clashes, both men continued to act as professionals and still performed admirably.
For the Russian campaign of 1812, Morand continued to command his division, though Davout's Corps was now the I Corps. He served at Smolensk and then was wounded at Borodino when his jaw was crushed by pieces of canister shot. After surviving the retreat, in March of 1813 Morand finally got a new command, taking charge of the 12th Division under General Bertrand. In the meantime he was rewarded as a Commander of the Order of Saint Henry of Saxony and the Grand Cross of the Order of the Reunion. That year he fought at Lutzen and Bautzen, distinguished himself at Dennewitz, and then fought at Wartenbourg, Hanau, and Hochheim. Finally he took over command of IV corps from Bertrand, and then directed the defense of Mainz until Napoleon's abdication.
During the first Bourbon Restoration, General Morand retired to Fontainebleau. With the return of Napoleon for the Hundred Days, he initially served as an aide-de-camp to the emperor, but then served as a Colonel of the Chasseurs à Pied of the Guard. He served at Waterloo, retaking Plancenoit during the battle. After the second Bourbon Restoration, he was put on non-activity before being exiled to Poland and then condemned to death. In 1819 he returned to France and was acquitted of the charges brought against him.
Notes
Bibliography
Updated June 2016
© Nathan D. Jensen