General Auguste-Daniel Belliard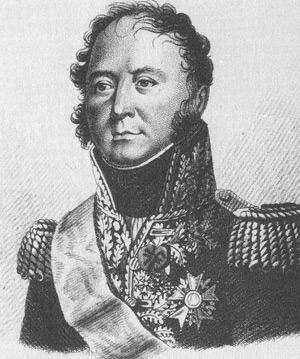 Chief of staff to Marshal Murat and a notable cavalry general
---
Born: May 25, 1769

Place of Birth: Fontenay-le-Comte, Vendée, France

Died: January 28, 1832

Cause of Death: Apoplexy

Place of Death: Brussels, Belgium

Arc de Triomphe: BELLIARD on the south pillar
Pronunciation:
The son of a prosecutor in the royal court of Fontenay, Auguste-Daniel Belliard did not follow his father's steps to become a lawyer. In 1789 as the Revolution began to gain momentum, Belliard helped to form a company of young citizens which two years later would become part of the National Guard. At the end of 1791, he joined the 1st Battalion of Volunteers of the Vendée as a captain. The next year Belliard joined Dumouriez's staff and served at Valmy before distinguishing himself at Jemappes . In March of 1793 he was promoted to chef de bataillon and then went on to fight at Neerwinden . A few months later he was suspended from his position.
In August of 1794 Belliard was authorized to return to military service in the 3rd Chasseurs à Cheval. A year later he received a promotion to chef de brigade. In February of 1796 he was designated for the Army of Italy, and in June he became Sérurier's chief of staff. Belliard fought at Castiglione , Saint-Georges, and Verona before being wounded at Caldiero. Nevertheless, he continued to fight and fought at the bridge at Arcola where Napoleon promoted him to général de brigade on the battlefield. In January of 1797 Belliard shifted to Joubert's division, and then he served at Trente later that month and Lavis, Neumarkt, and Mittelwald in March.
Initially designated for the Army of England in early 1798, General Belliard instead seized Civita Vecchia and then traveled to Naples. Now designated for the Army of the Orient, he was given command of the 1st Brigade of Desaix's division. He took part in the action on Malta where he took Fort Rohan. After disembarking in Egypt, Belliard fought at Alexandria and the Battle of the Pyramids . In 1799 he fought at Sediman, Assouan, Girgeh, Philé, Kous, Benouth, and Kosseir. He also defeated Murad Bey at Sapht-Rhachim, pushing that adversary to ask for peace. After Desaix left to return to France, Belliard joined Friant's division, and in 1800 he fought at Héliopolis, Belbeis, and Korain. He continued to fight, winning at Schouara and retaking Damietta but then being wounded in the belly at Cairo. General Kléber promoted him to général de division that April, and in June Belliard became governor of Cairo. In 1801 Belliard won at El-Zouameh and then was besieged at Cairo by the Turks and English, eventually being forced to surrender in June but with honorable terms. Throughout his time in Egypt, Belliard had grown an interest in archaeology and assisted the scholars on the expedition, eventually publishing a history of the expedition.
Once back in France, Belliard was given command of the 24th military division at Brussels. When hostilities resumed in 1805, he was named chief of staff to Marshal Murat. In this position he distinguished himself at Wertingen and Amstetten. When Marshals Murat and Lannes daringly attempted to talk their way into possession of the valuable Tabor Bridge, Belliard accompanied them and participated in the successful ruse. After that success, Belliard went on to fight at Austerlitz.
The latter half of 1806 was also a busy time for Belliard. Still serving as Murat's chief of staff, he fought at Jena and Erfurt and then concluded the surrender of Prentzlow. Continuing on, he fought at Lübeck and Golymin . In 1807 he fought at Eylau, and then when the campaign resumed in the summer, he fought at Heilsberg and Friedland.
In 1808 Belliard traveled to Spain, continuing as Murat's chief of staff. In August when Murat left to become King of Naples, Belliard did not follow him, instead becoming chief of staff to Marshal Jourdan. From December of 1808 to December of 1810 he served as the governor of Madrid. In the meantime he was rewarded as a Count of the Empire.
Belliard returned to France in late 1811, and when Murat rejoined the army to take command of the Cavalry Reserve for the Russian campaign, Belliard resumed his position as Murat's chief of staff. He continued to be involved in the fighting, serving at Koukviaki, Ostrowno, Witepsk, Smolensk , and Borodino. The day after Borodino he was wounded in the leg by a ball at Mojaisk.
After surviving the retreat, Belliard was given an honorary title of Colonel General of Cuirassiers. In June of 1813 he was attached to Marshal Berthier's staff, and in October he fought at Leipzig where a ball broke his left arm. Regardless of this wound, he fought at Hanau on October 30th.
During the defense of France of 1814, General Belliard fought at Montmirail , Château-Thierry, and Laon. Next he was given command of two divisions of cavalry, and fought with them at Fère-Champenoise and Paris. When Paris was surrendered to the Allies, Belliard went to Napoleon to give him the bad news.
After Napoleon's abdication, Belliard was fairly well treated, becoming a Knight of Saint Louis, Peer of France, Inspector General of Cuirassiers, and Grand Cross of the Legion of Honor. As Napoleon escaped from Elba and began his triumphant march to Paris, Belliard accompanied King Louis XVIII to Beauvais and then returned to Paris. Napoleon, quite aware of the political landscape, sent Belliard as a special envoy to Murat in Italy. Belliard traveled to Italy, leaving France in April and arriving in May to meet with Murat. Murat's loss of the Battle of Tolentino changed the political situation, and Belliard returned to France at the end of May. Once back in France he took command of the 3rd and 4th military divisions and a corps of the National Guard on the Moselle.
After Napoleon's second abdication, Belliard was arrested and thrown in prison, finally being released in June of 1816.

Bibliography
External Links:
Updated May 2014
© Nathan D. Jensen