General Louis Vincent Joseph Le Blond de Saint-Hilaire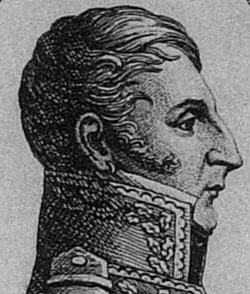 Distinguished général de division who was mortally wounded at Aspern-Essling
---
Born: September 4, 1766

Place of Birth: Ribemont, Aisne, France

Died: June 5, 1809

Cause of Death: Mortally wounded

Place of Death: Vienna, Austria

Arc de Triomphe: S

T

HILAIRE on the south pillar
At the young age of 11, Louis-Vincent-Joseph Le Blond de Saint-Hilaire began his military career by becoming a cadet in the cavalry regiment of Conti and an official adopted child of the regiment. Four years later, he volunteered to join the infantry regiment of Aquitaine, and that same year he left France for the East Indies. By 1788 he had been been commissioned and promoted to lieutenant, and in 1792 he received a promotion to capitaine and served with the Army of the Alps. After taking part in the Siege of Toulon in late 1793, St. Hilaire received a promotion to chef de bataillon and was then transferred to the Army of Italy to serve under Masséna.
In August of 1794 St. Hilaire was placed under Laharpe's command, where he would remain for the next few years. Later that year, he was promoted to chef de brigade, and the next year he received a further promotion, this time to général de brigade. At the Battle of Loano in 1795, St. Hilaire was hit by grapeshot in the left hand and lost two fingers. The next month he took command of the 3rd Brigade of Laharpe's division. Four months later, in March of 1796, General Saint-Hilaire left his command to Cervoni and took leave to rest and recover at the waters of Digne. By the end of July, he had returned to the army as part of Sauret's division. The next few months were full of fighting for Saint Hilaire as he was victorious at Gavardo, seized Rocca d'Anfo, transferred to Vaubois' division, fought at Bassano and Due Castelli, and then fought at Saint-Georges where he was wounded in both legs by grapeshot.
March of 1797 began with Saint-Hilaire being employed in Kilmaine's division with the formations left in Italy. The next year he became commander of the depots for the Army of the Orient and the Var département at Toulon. After spending a few months at the end of 1799 as the commander of the 8th military division of Marseilles, he was promoted to général de division. In May of 1800 Saint-Hilaire led the National Guard of Var and Bouches-du-Rhône to join Suchet's forces in the Italian campaigns of that year. That November he took a position as commander of the 15th military division at Rouen and remained there until 1803.
In August of 1803 General Saint-Hilaire took command command of the 1st Division at the camp of Saint-Omer, which in 1805 became part of Marshal Soult's IV Corps. He led the division into action at Austerlitz, storming the Pratzen Heights and smashing the Russian center alongside Vandamme's division. For his notable leadership, he was rewarded with the Grand Eagle of the Legion of Honor later that month. During the campaigns against the Fourth Coalition the next year, St. Hilaire continued to lead his men into action at many battles, including Jena, Bergried, Ziegelhoff, Eylau, and Heilsberg. More rewards followed all this fighting when he was named a Commander of the Iron Crown and a Count of the Empire in 1808.
After Austria declared war in 1809, St. Hilaire took command of the 3rd Division of Lannes' II Corps. With this unit he fought at Tengen, Schierling, Eckmühl, Ratisbon, and Aspern-Essling . At Aspern-Essling he was wounded but nevertheless continued to lead his men. Unfortunately, he was not so lucky a second time as later during the battle his left foot was smashed by a cannonball. Saint-Hilaire was carried from the field, and within a few weeks he died of his wounds in Vienna.

Bibliography
Updated May 2019
© Nathan D. Jensen