General Pierre Berthezène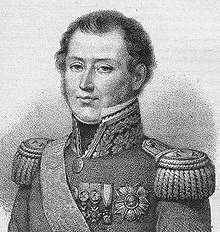 Infantry general who served with the Young Guard in Russia in 1812 and Saxony in 1813 and then in Vandamme's corps in 1815
---
Born: March 24, 1775

Place of Birth: Vendargues, Hérault, France

Died: October 9, 1847

Place of Death: Vendargues, France

Arc de Triomphe: BERTHEZENE on the south pillar
Pronunciation:
Joining the army as a volunteer in the 5th Battalion of Hérault in September of 1793, Pierre Berthezène almost immediately saw action serving at Peyrestortes . Not long after, he was sent to serve at the Siege of Toulon . In 1794 Berthezène was promoted to sous-lieutenant and he joined the Army of Italy where he would remain for the rest of the French Revolution. In 1795 his comrades selected him to be promoted to lieutenant. 1799 was the next major year in Berthezène's career as he first joined General Grenier's staff. In June he fought at the Battle of San-Giuliano where he was promoted to capitaine on the battlefield. The next month Berthezène became an aide-de-camp to General Compans and later in the year he served at the combats of Monte-Settepani and Ronchi di Moglia. In April of 1800 he was serving with the Army of the Var and he was wounded by a shot to the head during the attack of Saint-Jacques. That July Berthezène was promoted to chef de bataillon and then in December he fought at Pozzolo where he was wounded by a shot to the left leg.
In 1803 Berthezène began serving at the camp of Saint-Omer. In 1805 he was assigned to the Army of the North and in 1806 he was appointed major of the 65th of the Line. In February of 1807 Berthezène was promoted to colonel of the 10th Light and he began serving with the Grande Armée in Poland as part of Saint-Hilaire's division. That June he fought at the Battle of Heilsberg. Berthezène was named a Baron of the Empire in 1808 and in 1809 he took part in the Danube campaign after the Austrians attacked Bavaria. During that campaign he served at Thann and Eckmühl in April and then at Wagram in July where he was wounded twice. In 1811 Berthezène was promoted to général de brigade and sent to command the isle of Walcheren. For the war against Russia of 1812, he was placed in charge of the 1st Brigade of Delaborde's division in the Young Guard. That September Berthezène fought at Borodino and then during the retreat he served at the Berezina.
Having survived the retreat, in April of 1813 Berthezène took command of the 2nd Brigade of the 1st Division of the Young Guard. In May he fought at Lützen and Bautzen and then in August he was promoted to général de division. Berthezène took command of the 44th Infantry Division of Marshal Gouvion St. Cyr's XIV Corps that was assigned to defend Dresden. When the French finally surrendered Dresden in November, Berthezène was sent as a prisoner of war to Bohemia.
After the Bourbon Restoration in 1814, Berthezène returned to France where he was named a Knight of Saint Louis but placed on non-activity. However, he was then given a position as a member of the committee of war. When Napoleon returned from exile in 1815 and resumed power, Berthezène rallied to him. That June Berthezène was given command of the 11th Division of Vandamme's III Corps. During the short campaign in Belgium, he fought at Ligny, Wavre, Bierges, and Namur. Returning with the army to Paris, Berthezène took part in the defense of Paris. As negotiations led to the army moving south of the Loire, he was given command of III Corps in place of General Vandamme. In September Berthezène was authorized to return home and then in December he was exiled to Belgium. He was allowed to return to France five months later in April but he was again put on non-activity.

Bibliography
Updated September 2019
© Nathan D. Jensen