General André Louis Elisabeth Marie Briche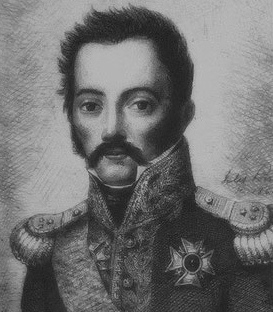 Cavalry brigade commander who served in Spain and Germany
---
Born: August 12, 1772

Place of Birth: Neuilly-sous-Clermont, Oise, France

Died: May 21, 1825

Place of Death: Marseille, France

Arc de Triomphe: BRICHE on the south pillar
Pronunciation:
The son of the director general of farms of Brittany, André Louis Élisabeth Marie Briche joined the 1st Chasseurs à Cheval in September of 1790. He served with the Army of the North but was then suspended in August of 1792. By April of 1793 Briche was back with the army and promoted to lieutenant. In 1794 he served in the Vendée and then in 1795 he returned to the Army of the North where he was promoted to capitaine. In 1798 Briche joined the Army of Italy and then in 1799 he served with the 11th Hussars. That year he served at the Battle of the Trebbia in June and then two years later he served at the Battle of Marengo. In December of 1800 Briche served at the crossing of the Mincio.
During the peace that followed, Briche was promoted to chef d'escadrons by Murat in 1801. In 1803 he was named major of the 9th Hussars. In January of 1806 Briche took command of the 10th Hussars and his unit joined Treilliard's Light Cavalry Brigade in V Corps. That October he charged with his men at Saalfeld and took two cannons. He went on to serve at Jena and then distinguished himself near Thorn.
In 1808 Briche was sent to Spain as part of V Corps. In 1809 he served at the Siege of Saragossa, then in November he fought at the Battle of Ocaña , and afterwards in December he was promoted to général de brigade commanding the cavalry of V Corps. That year also saw Briche being named a Baron of the Empire and then in 1810 he won at Fuente de Cantos. In January of 1811 Briche seized Mérida and then he won at Botoa and Talaveira la Roa. The next month he served at the Gebora and then in May he fought at the Battle of Albuera . In June Briche occupied Olivenza and then in October he served under Girard at Arroyo de Molinos before being recalled to France at the end of the year.
In September of 1812 General Briche married Julie Harty, daughter of General Olivier Harty. The next month he took command of a brigade organized at Paris. In January of 1813 Briche organized and took command of a cavalry corps in Italy at Verona. Three months later in April he took command of the advance guard, a brigade of Wurttemberg cavalry, of General Bertrand's IV Corps. In this command Briche charged at Lützen in May, he served at Bautzen later that month, and then he served at the Battle of Dresden in August. He was recognized as a Knight of the Military Order of Wurttemberg and then in November he was promoted to général de division and he took command of the 5th Heavy Cavalry Division of V Corps, serving in the Cavalry Reserve. In January of 1814 Briche took command of the 3rd Dragoon Division under Marshal Victor and he chased out the cossacks at Rambervillers. Continuing to fight, he then retook Saint-Mihiel and then at the end of the month he fought at Brienne under Grouchy. In February Briche served at La Rothière under Milhaud and then he won at Saint-Thiébault. Next he served at Mormant and Ferté-sur-Aube.
After Napoleon's abdication, Briche was named inspector general of cavalry of the 14th military division. In March of 1815 he served under the Duke of Angoulême and during Napoleon's successful return from exile Briche remained loyal to the Bourbon regime. Briche was arrested by his own troops and conducted to Montpellier. Napoleon had Briche dismissed but Briche returned to the military in July after Napoleon's second abdication. Briche served on the council of war that judged General Mouton-Duvernet and he continued his military career until his death.

Bibliography
Updated April 2019
© Nathan D. Jensen