General Jean-Baptiste Girard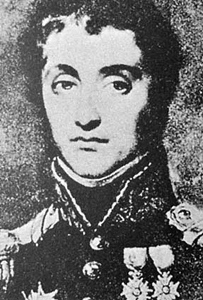 Général de division who was mortally wounded at Ligny
---
Born: February 21, 1775

Place of Birth: Aups, Var, France

Died: June 27, 1815

Cause of Death: Mortally wounded

Place of Death: Paris, France

Arc de Triomphe: GIRARD on the north pillar
Pronunciation:
Jean-Baptiste Girard was a well known general who first began his military career by volunteering in September of 1793 at age eighteen. In 1794 he was serving with the Army of Italy under General Masséna and took part in the expeditions to Oneglia and Saorgio. Two years later Girard was promoted to sous-lieutenant and then wounded at La Brenta. By now Girard's career began to gain momentum, in 1797 he was promoted to lieutenant, became an aide-de-camp to Monnier, and then was promoted by General Bonaparte to capitaine. The next year General Championnet promoted him to chef de bataillon.
In 1799 Captain Girard was still with the Army of Italy, and he served at the defense of Ancône and then was part of the first assault on Ascoli. Later that year General Monnier promoted him to chef de brigade and when the Army of the Reserve was formed he became Monnier's chief of staff in that army. During the campaign in 1800, he served during the crossing of the Ticino and at the Battle of Marengo. Later that year he also took part in the assault of Arezzo. For the next few years Colonel Girard remained in Italy before returning to Paris in 1804 as chief of staff to the 1st military division.
As war broke out in 1805, Girard joined the staff of the cavalry reserve. Before long he became the deputy chief of staff, and he fought at Nuremberg and Austerlitz. The next year he fought at Jena, and a month later was promoted to général de brigade but maintained his position on the staff of the cavalry reserve. On the last day of 1806, Girard joined Suchet's division in V Corps as a brigade commander, and then that summer he fought at Drenzewo.
In 1808 General Girard was created a Baron of the Empire and went to Spain with his division. In 1809 he was given command of the 1st Division of Mortier's V Corps, and he distinguished himself at the fighting at the bridge of Arzobispo. In September he was promoted to général de division, and then in November he led his division into action at Ocana where he was wounded. In 1810 he won at Villagarcia in August.
1811 was a very busy year for Girard. He started the year off participating in the siege of Olivenza, and then in February he was at Badajoz where he particularly distinguished himself. Afterwards he fought at Gébora, and then in May he commanded V Corps for the Battle of Albuera. Afterwards he was named a Grand Officer of the Legion of Honor, but he kept on fighting, winning at Elvas in June. That October Girard's force was surprised and badly beaten by the British at Arroyo dos Molinos, and he was recalled to France.
Once back in France in 1812, General Girard was tasked with organizing a Polish division. In May he took command of the 28th Polish Division of Marshal Victor's IX Corps and led his division into Russia. During the retreat he fought at Smolensk and then was part of the rear guard at the Battle of the Berezina where he was wounded.
In 1813 Girard was given command of the 10th Division and also rewarded with the Grand Cross of the Order of the Reunion. At the Battle of Lützen he commanded the 3rd Division under Marshal Ney and was wounded by several balls. Next he took command of a division at Magdeburg, and then was wounded at Lubnitz. Falling back into Magdeburg, he was blockaded and only surrendered after receiving word of Napoleon's abdication.
Returning to France, Girard was rewarded as a Knight of Saint Louis but simultaneously put on non-activity. When Napoleon escaped from Elba, Girard rallied to him and took command of his advance guard. Girard was made a Peer of France and given command of the 7th Division in General Reille's II Corps of the Army of the North.
During the campaign that June, on the evening of the 15th he visibly paled when he received his orders for the next day. Prince Jerome noticed his complexion and asked him what was wrong, and Girard responded that he would be killed the next day. Jerome tried to convince him that after he had seen so many battles and wounds and was still alive, he was immortal.1 The next day, during the Battle of Ligny Girard was severely wounded several times while leading his men to take the village of Saint-Armand. After he was transported to safety, Napoleon visited the wounded Girard and named him Duke of Ligny, but Girard's wounds proved too much and he died on June 27th.
Notes
Robert Du Casse, Le Volontaire de 1793: Général du Premier Empire (Jean-Baptiste Girard, Duc de Ligny), (Paris: C. Dillet, 1880), 413-415.
Bibliography
External Links:
Updated January 2017
© Nathan D. Jensen