General Jacques Marie Cavaignac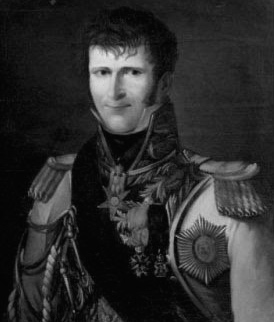 Dragoon commander who served in Naples and the defense of Danzig
---
Born: February 11, 1773

Place of Birth: Gourdon, Lot, France

Died: January 23, 1855

Place of Death: Paris, France

Arc de Triomphe: CAVAIGNAC on the south pillar
Pronunciation:
The son of a lawyer and also the brother of a member of the National Convention, Jacques Marie Cavaignac was commissioned in the 5th Infantry Regiment as a sous-lieutenant in May of 1792. He served in the Army of the North and that November he fought at the Battle of Jemappes where he was wounded by a shot to the left leg. In 1793 Cavaignac began serving as a chasseur à cheval and he was promoted to lieutenant that May. The next year he was promoted to capitaine and he began serving with the Army of the Western Pyrenees. In 1796 Cavaignac joined the Army of Italy and in 1797 he was promoted to chef d'escadrons. 1798 was a painful year for him as his leg was broken by a shot during a reconnaissance at the Battle of Cassano in April. Somehow able to continue to fight, only a few weeks later in May Cavaignac was wounded by the blow of a lance to his right side at the affair of Bassignano. Then five weeks later in June he was again wounded, this time by two shots near Voghera. In the year 1800 Cavaignac was promoted to chef de brigade of the 10th Dragoons.
In the following years Cavaignac served in the garrison at Amiens. In 1805 he joined the Army of the Coasts of the Ocean and when the army marched out to fight the Third Coalition he served with General Walther's 2nd Dragoon Division. Cavaignac served at the Battle of Austerlitz and then in January of 1806 he was named equerry to Joseph Bonaparte. He was next sent to the Army of Naples where he served under Espagne at the action of Sora. In September of 1806 Cavaignac was promoted to général de brigade and then in October he passed into the service of the Kingdom of Naples. In 1807 he served in Calabria under Reynier and in 1808 he seized Reggio. Later that year Cavaignac briefly commanded an expedition that disembarked in Sicily but not having received enough support he re-embarked and returned to Calabria. In June of 1808 he was promoted to général de brigade and he became Marshal Murat's premier aide-de-camp. In 1809 Cavaignac served under Partouneaux at the combat of Scylla. The following year he took command of a force intended to try to disembark in Sicily again but they never set sail. In the meantime he repulsed a British force that tried to make a tentative landing at Reggio.
In May of 1812 Cavaignac returned to French service and he was assigned to Marshal Augereau's XI Corps where he eventually took command of the cavalry. In January of 1813 he took command of the cavalry of X Corps under General Rapp and then the X Corps was forced to fall back into Danzig Cavaignac. Rapp and Cavaignac were besieged in Danzig by the Coalition forces and they held out until January of 1814. Afterwards Cavaignac was sent as a prisoner of war to Kiev.
Cavaignac was released to return to France after Napoleon's abdication and the Bourbon Restoration. He was named a Knight of Saint Louis and put on non-activity but also promoted to lieutenant general. When Napoleon resumed power for the Hundred Days of 1815, Napoleon briefly placed Cavaignac in charge of the 1st Cavalry Division of the I Corps of Observation. After Napoleon's second abdication, Cavaignac continued his military career. Cavaignac's first wife died in 1821 and in 1832 he married a daughter of Marshal Pérignon.

Bibliography
Updated June 2018
© Nathan D. Jensen