General Antoine Jean Auguste Durosnel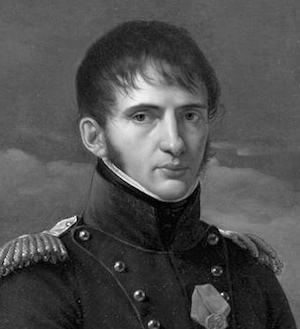 Aide-de-camp to Napoleon who spent much of his career with the 16th Chasseurs à Cheval
---
Born: November 9, 1771

Place of Birth: Paris, Paris, France

Died: February 5, 1849

Place of Death: Paris, France

Arc de Triomphe: DUROSNEL on the west pillar
Pronunciation:
The son of a farmer, Antoine Jean Auguste Dursonel served with the gendarmes before the Revolution. In January of 1792 he was named a lieutenant in the 26th Infantry and only two months later he was named an aide-de-camp to General d'Harville and promoted to capitaine. Serving with the Army of the North, Durosnel joined the 16th Chasseurs à Cheval in September of 1793. In 1794 he joined the Army of the Sambre and Meuse and in 1795 he returned to d'Harville's side as an aide-de-camp. Durosnel was promoted to chef d'escadrons in October of 1796 and three years later he joined the Army of Holland in 1799. That year he was promoted to chef de brigade of the 16th Chasseurs à Cheval and then in 1800 he joined the Army of the Rhine. Serving in combat, he fought in May of 1800 at Messkirch and then he charged at Biberach a few days later. As the army prepared for war that winter Durosnel took command of the advance guard of General Grenier's corps.
During the years of peace that followed, Durosnel served in the Army of the Coasts of the Ocean. In 1804 he was named an equerry to the Emperor Napoleon. As the threat of the Third Coalition loomed and the Grande Armée began its campaign in 1805, Durosnel and his men joined Milhaud's brigade. That November he served at Amstetten, served under Marshal Murat at Enns, and then fought near Brunn. Durosnel fought at Austerlitz and afterwards he was promoted to général de brigade. In 1806 he took command of a brigade of light cavalry in Marshal Augereau's VII Corps and he served on the campaign against Prussia. He fought at Jena in October and then Golymin in December. In February of 1807 Durosnel took command of the 4th Brigade of Lasalle's cavalry division and then in June he fought at Guttstadt and Friedland. Awards followed, for he was named a Knight of the Lion of Bavaria in 1807 and a Count of the Empire in 1808.
In 1808 Durosnel followed Napoleon as an equerry to Spain and then he returned with Napoleon to Germany in April of 1809. Now serving as an aide-de-camp to Napoleon, he was promoted to général de division that month. The next month Durosnel fought at Ebersberg under Bessières and then at Aspern-Essling where he was wounded and taken prisoner. After the conclusion of the campaign he was released and he returned to his position as aide-de-camp to the emperor and he also became governor of pages.
1810 was a sad year for Durosnel, for he and his wife attended the party of July 1st, 1810 given by Schwarzenberg, then serving as Austrian ambassador to France. While it was intended to be a celebration of the union of France and Austria, a fire broke out and in the ensuing chaos Durosnel's wife was badly hurt and burned, lucky to have survived. It took her more than a year to recover from her injuries. In 1812 Durosnel took command of the gendarmes of the Imperial Guard for the campaign against Russia. He was named commander of arms at Moscow and then survived the retreat. Durosnel's services were still needed for the campaign in Germany of 1813, and Napoleon appointed him governor of Dresden. When the city finally surrendered in November of 1813, Durosnel was taken prisoner.
When Napoleon returned from exile to resume power in 1815 for the Hundred Days, Durosnel again became an aide-de-camp to the emperor. He commanded the National Guard of Paris under Marshal Masséna and was named a Peer of France. After Napoleon's second abdication, Durosnel was put on non-activity.

Bibliography
Related Pages:
External Links:
Updated February 2018
© Nathan D. Jensen